BEST VIEWED LARGER
Technique: 25 bracketted exposures, processed in Photomatix 3.26 separately, then merged in Photoshop Elements 7.0 HANDHELD
Well this is one of my first tentative steps into HDR Panoramic Photography.
Be critical if you like, I couldnt resist this view yet again taken at Dawn as the P&O Cruise Ocean Liner squeezes under the bridge. February march is Ocean and Superliner season as the ships cruise the Pacific for the summer.
The View from the Blues Point on the northern side of Sydney Harbour.
Location: Sydney Harbour, Sydney Capital City State of New South Wales , Australia
Equipment: Nikon D300, Nikon 18-200mm, HANDHELD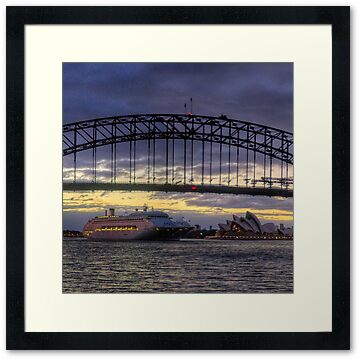 See Also