BEST VIEWED LARGER
Overlooking the City of Albury is Memorial Hill Designed by Louis Harrison and built by Tom Bartleson, the Monument was opened on Anzac Day, 1925 by General Paine.
In 1915 a visiting town planner, Charles Reade, proposed plans to erect a monument on the western hill to memorialise soldiers fallen in combat.
The subsequent siting of a memorial on the hill specially acquired by Albury Council at the end of Dean Street remains a good example of bold and imaginative town planning.
One of the few towers erected as a World War I memorial, it is regarded as one of the best known in Australia. The visibility of the monument was seen as a vital part of it's meaning when the site was selected.
The significance of the site is further enhanced by the presence of the Memorial Bowl nearby, which was erected as a World War II memorial.
If you visit the City of Albury , keeep an eye out for the architecture, there are many buildings with a Art Deco influence
Description:
The Albury Memorial was opened on Anzac Day 1925 by General Paine. Designed by the Architect Louis Harrison the site was chosen by the town planner Charles Reade.
The monument is a white ferro concrete tower, in the form of a tapered lighthouse painted stark white and surmounted by a 'torch of liberty'. This torch is 1.8 meters high and faced with 40 panes of prismatic glass. During the day sunlight plays through this glazing giving the torch the illusion that it is lit. The tower provides a striking terminus to the vista down the street. It is similar to the memorial tower at Goulburn in that it was designed to be visible at any number of positions across the town.
The tower was originally lit by ground lights however electric lighting was not supplied to the torch until 1995. In the same year a number of individual plaques were set in the gardens around the monument to recall those who had died in both World Wars, the Korean War and the Vietnam War.
Equipment : Nikon D300, Sigma 10-20mm Lens
Technique : HDR 5 Bracketted Images, Photomatix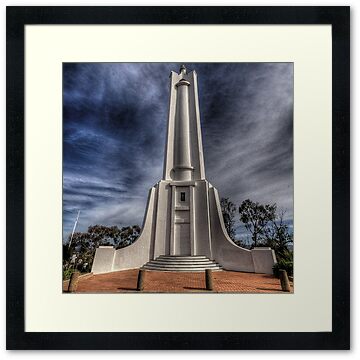 See Also
Looovely Art Deco: