WIDE LOAD PLEASE VIEW LARGER
This formation known as The Razorback, taken at dusk …. gotta love those clouds !!!!
Situated between Apollo Bay and Port Campbell in The Port Campbell National Park are the 12 Apostles. Original named 'The Sow and Piglets'. The name was changed in the 1950s to tempt more visitors to see them. These famous residence of The Great Ocean Road were created from the 70 meter limestone cliffs by the relentless pounding of the Southern Ocean. To date only 8 of the original 12 apostles are still standing as the ocean continues to erode and shape the coast line.
How they were created
The limestone rock that makes up the 12 Apostles was created through the build up of skeletons of marine creatures on the sea floor. As the sea retreated, the limestone was exposed.
Over 20 million years ago the restless, stormy Southern Ocean and it's blasting winds began attacking the soft limestone cliffs. Gradually the softer limestone eroded, forming caves in the cliffs. The caves eventually became arches and when they collapsed, rock pillars up to 45 metres high were left – The Twelve Apostles. The Apostles are eroded by the sea at a rate of approximately 2cm a year.
Equipment: Nikon D300 , Sigma 10-20mm
Technique: HDR, Bracketted Images, Photomatix 3.2 64 Bit, Capture NX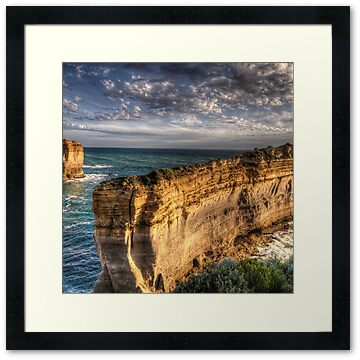 See Also
Reach For The Sky: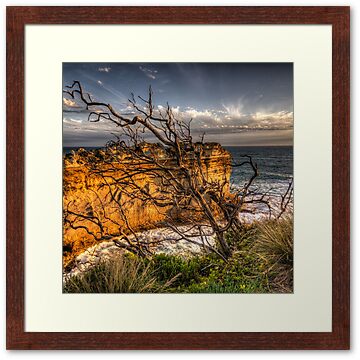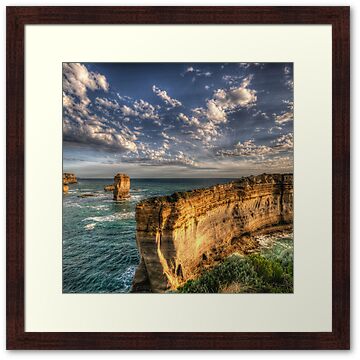 Loch Ard Reflections: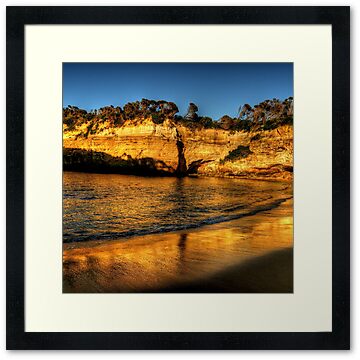 Endurance:

"Natures Paintbrush":
http://www.redbubble.com/people/salieri1627/art...: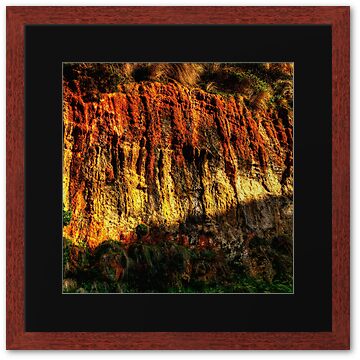 On The Edge: