BEST VIEWED LARGER
SOLD LARGE FRAMED PRINT UKNOWN BUYER
725 Views as of 10/04/12
Clareville is North of Sydney, on the shores of Broken Bay, 30 kkilometres from the Sydney CBD. A perfect place to sit and watch the sunset, a good Australian wine and company.
This is my neighbourhood, not more than 15 minutes from my doorstep.
From a photo point of view it catches the reflections of a great sunset, it's jetties are great prop for silhouettes.
This photo is the result of four braketted images processed through photomatix HDR software, some sharpening in Capture NX, no colour manipulation. It shows how HDR can enhance a shot.
Equipment used Nikon D300 (Magic!) lens was a Sigma 10-20mm a great lil lens, no filters were used.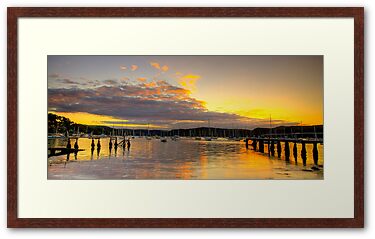 My continuing journey of learning with HDR
The Sister Image