BEST VIEWED LARGER
Zig Zag Railway is an Australian heritage railway outside of Lithgow, New South Wales operating on the Lithgow Zig Zag line which was part of the Main Western line from October 1869 until October 1910 when replaced by the Ten Tunnels deviation. It was reopened as a heritage railway in October 1975.
In June 2012 the Zig Zag Railway closed for an indefinite period following accreditation issues with the New South Wales Government.
More Information see Wiki:
This image taken sometime ago when the raiway was operating, i suspect that this old loco is much more rusty these days.
Good news from Lithgow newspapers indicate that much overdue maintenance and restoration of the site is underway which is a light at the end of the tunnel for the future of this Heritage site.
Technique: HDR 5 Bracketted exposures tonemapped in Photomatix and merged in photoshop elements adjustments in colour effex pro and vivesa 2
Equipment Nikon D300 + Nikon 18-70mm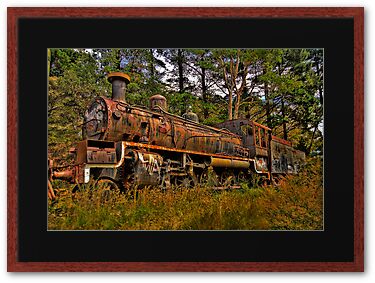 SPECIAL ORDERS – If you want a larger size Canvas Work than what is available through Red Bubble Contact Me direct and we can negotiate size and costs All My Works are available in different media at special costs
© Copyright 2013 Philip Johnson Photography, All Rights Reserved
HELP US CONVINCE RED BUBBLE TO IMPROVE VIEWING SIZES OF ALL IMAGES INCLUDING PANORAMICS
VOTE to provide better viewing of large images HERE:
See Also
The Journey B&W Variation – Cootamundra,NSW – The HDR Experience:
The Journey (Sepia) – Cootamundra,NSW – The HDR Experience: