In more normal light without polarizers or flash below.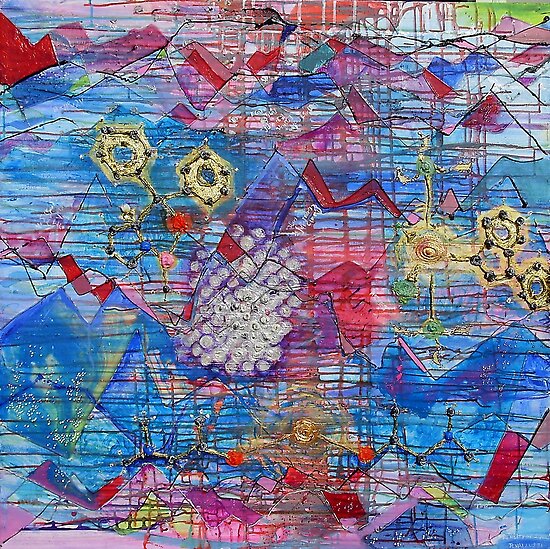 Oil over acrylic with glass beads and metal foil. A combination of traditional painting, paint dripping, and cake decorating techniques were used to create the textures in the piece.
36 × 36 × 1.5 inches, 2011
791 views as of Sept. 29, 2011
This one's for the chemists!
Density of states is an important concept in the quantum mechanics of molecules. If there are a lot of electrons and there are continuous "paths" of energy states to delocalize the electrons, useful electronic, magnetic, and optical properties (and chemistry!) will often result.
A good bit of materials chemistry, organometallic chemistry, and inorganic chemistry involves tweaking electron densities and densities of states.
This important set of properties is represented in the background of the painting. The grid pattern produced by dripping paint is reminiscent of both graph paper and quantized energy levels, and the movement in the colors alludes to the "movement" between levels in a transition. The jagged linear pattern of crossing zig zags is an artist's abstraction of many of the molecular density of states plots found in the technical literature. Equations from density functional theory and the Hartree-Fock model act as both expository text and as linear contrasting textures in the background.
Of course the stars of this little quantum story are the molecules – several very sexy catalysts from the Strem catalogue and a nanoparticle. The depiction of the molecules works with the style of the background textures to convey both the structured passion and irreverent creative glee involved in the discovery, synthesis, and proof of these "holy grails" of chemistry.