These tiny , fast flying Hummingbirds are Nature at its finest. They are very difficult to capture because they fly so fast, one has to antisipate their movements ahead of time just to get a photograph.

HOMETOWN, OREGON, USA
62 favs..JULY 20 , 2012
130 COMMENTS
843 VIEWS
26 FEATURES..AUGUST 2 2012
1) ABSOLUTE CLARITY
2) CAPTIONS AND CONFESSIONS
3) ALL THINGS PHOTOGRAPHIC
4) BREATHTAKING ANIMALS AND PLANTS
5) NIKON FUN GROUP
6) BACKYARD MACRO & CLOSEUPS
7) HIGH QUALITY IMAGES
8) ARTISTS UNIVERSE
9) REDBUBBLE BOOMERS
10)PEACE LOVE TRANQUILITY
11)THE BIRDS
12)INSPIRED ART GROUP
13)TBORB
14)THE SILKY TOUCH
15)2 FEATURED SUBMISSIONS GROUP
16)IF IT MOVES, SHOOT IT
17)ART UNIVERSE
18)HOMETOWN PHOTOGRAPHY
19)THROUGH THE EYE OF THE LENS
20)A PLACE TO START
21)EXPLORE PAGE FEATURE
22)LET ANIMALS STAY FREE
23)TUESDAY AFTERNOON
24) ART AND PHOTOGRAPHY SHOWCASE
25)UNITED STATES
26)THE # 1 GROUP
HOMETOWN, OREGON, USA
SERIES OF TINY BUBBLES FOR SALE…
D300 NIKON 1/1600 SEC..F/5.6 500MM LENS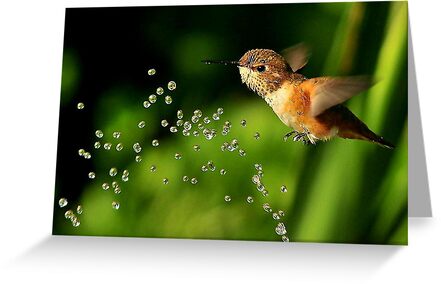 MAKES great cards…words can be added….