All images are © Copyright Rosa Cobos 2010 . All rights reserved
Spatial background designed with Photoshop filters and starry brushes. Items created by photographs taken by myself. Including the rings of the "Viriditas Planet", formerly a great success in my gallery
I dedicate this work to all the women that have got, not without a sense of discard and pain, to the age of the "Crone" and that from that time on… they witness with absolute perplexity, how their bodies again, are dramatically changing…and have to re-create their Body-Soul. Hope you will meet the symbol of this Creature. I have worked it with effort for it was not easy to get it out of my Heart-Mind, either as a dream-idea…or technically speaking.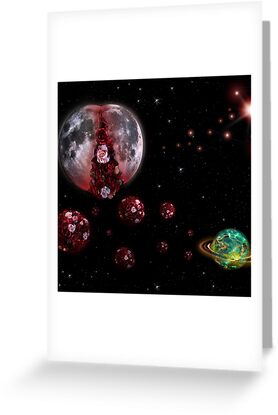 *Tribute to the "dry wombs"…
women kept the secret,
for many years,
behind curtains of indifference.
That of the Universe…
unable to hear their moaning.
She ..the Moon, had taken the tears,
to create invisible ponds of seeds,
being absorbed by her mysterious skin.
Always there…like a puppet of the Earth,
humble and barren…a desert of lost suns.
Compassion has created the worlds,
for the Energy cannot conceive without Love.
Trembling, breaking the channel…breeding Life.
Fearing the pain, paining the loneliness…
at last….I could see that her inside breathed …
her inside burned the dreams of the human souls.
I cannot use my hands to bring their bodies out…
they sprouted from her heart…perfect stars of Love.
Before Viriditas will be swallowed by the greedy Sun,
those kisses of the Eternal Silence,
have come to her… looking for a Mom.
She has got a ring….precious bond with the Sun,
but it is made of hushing winds…and light and dust.
Viriditas has learnt to send her waters to the Moon,
and she…has given her back the Life and her Soul.
The time has come for us….
"dry women"…
to recover…
the Power of the SoulLife.
Rosa*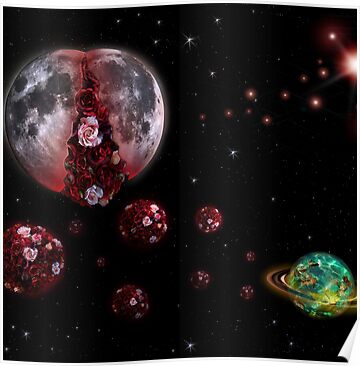 © Copyright Rosa Cobos 2010 . All rights reserved