11/27/11 – Featured in THE SCAVENGER HUNT Group.
Jimmy had fun trying different camera settings to take this photo of the moon rising over the mountains of Glacier National Park, Montana (USA). We were so far out of town that we didn't have to worry about other light sources. The only problem with a 10 second exposure was that the clouds were moving so fast that they kept covering the moon. It took several tries to finally get a cloud free moon. If you look at this in full view, you can see the moonlight reflecting off the water of the Flathead River, behind the trees.
We had set up the tripod, hoping to capture some photographs of the Perseid meteor shower. The full moon, combined with light pollution, had been causing problems for many people. We didn't have to worry about city lights, but we also didn't see any meteors. This is the first time either one of us has been able to successfully photograph a night scene. All earlier attempts have been covered with unsightly noise splotches.
Photo taken by James Emerson, August 13, 2011 with a Kodak EasyShare Z712 IS camera. It is "as is", straight from the camera.
ExposureTime – 10 seconds
FNumber – 3.20
ISOSpeedRatings – 64
ApertureValue – F 3.25
LightSource – Daylight
Flash – Flash not fired, compulsory flash mode
FocalLength – 10.50 mm
ExposureIndex – 64
SceneCaptureType – Night scene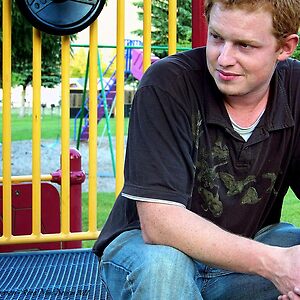 James Emerson is 24 years old and loves to take photographs, when he isn't busy working construction and raising his 21 month old son.