8/5/11 – Featured in the SHAMELESS SELF-PROMOTION Group.
8/5/11 – Featured in the EVERY LITTLE THING YOU DO Group
8/7/11 – Featured in the ART UNIVERSE Group..
8/7/11 – Featured in the ARTISTS UNIVERSE Group.
8/7/11 – Featured in the FRACTAL COMBINATIONS Group.
3/9/12 – Featured in the THIS & THAT Group.
This is another piece that I made for the Redeeming the Rejects workshop in the Fractal Abstracts group.
I started in UltraFractal 5 with a standard Julia formula. Below is the original image, which sat around on my computer for a couple years: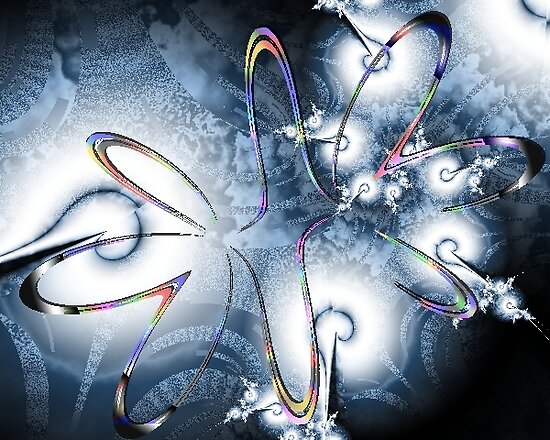 The trap shape is supposed to be a butterfly. The reason I held on to this so long is that I liked the basic background design and hoped that I would figure out how to make the trap look more like a butterfly.
I changed this by adding several layers for the plants and flowers. This made it look better, but the butterflies still looked like squiggles and were hard to see against the busy background. I rendered the fractal as a .psd file and imported it into Photoshop CS.
First, I merged the background layers, and then the flower layers and the butterfly layers. I then adjusted levels and contrast on the background to get rid of the washed out look. I applied bevel and drop shadow layer effects to the plant/flower layer. To save the butterflies, I erased the parts of the trap shape that didn't look like butterflies and then put each one on a separate layer. I used transform > scale to change their sizes, and then rotated and moved them around until I was satisfied with the composition. I finished them off with bevel and outer glow layer effects to help them stand out more against the background.