8/7/11 – Featured on RedBubble's Popular Digital Art page.
8/5/11 – Featured in the IMAGEWRITING Group.
8/5/11 – Featured in the INSPIRED BY LIFE Group.
8/6/11 – Featured in THE GROUP.
8/7/11 – Featured in the ART UNIVERSE Group.
8/8/11 – Featured in THE WORLD AS WE SEE IT Group.
1/24/12 – Featured in the TEMPORARY HOST HELPERS Group.
There are two kinds of promises used in the Bible:
Conditional promises, which are dependent on the behavior of the other parties, similar to the promises we make in contracts. God made many of these promises to Israel, promising to bless and prosper them as long as they behaved. It also talks about children obeying their parents so that it would be well with them (the children) and they would live long lives.
Unconditional promises, which stay in effect no matter what the other person does. An example of this kind of promise is when God told Abraham that his descendents would inherit the land that is now Israel. Another unconditional promise was made to Noah, after the flood, when God told him that the earth would never again be destroyed by flooding. The rainbow was given as a sign so that man would always remember this promise.
The original for this was made in UltraFractal 5 from a Nova (Mandelbrot) formula, and altered in Photoshop CS. I made this as an example of redeeming an old artwork, for a workshop in "Fractal Abstracts". We're running the Redemption Challenge in that group to encourage members to find an old fractal that they had given up on and do something radical to update and "redeem" it. Below is the original for this piece: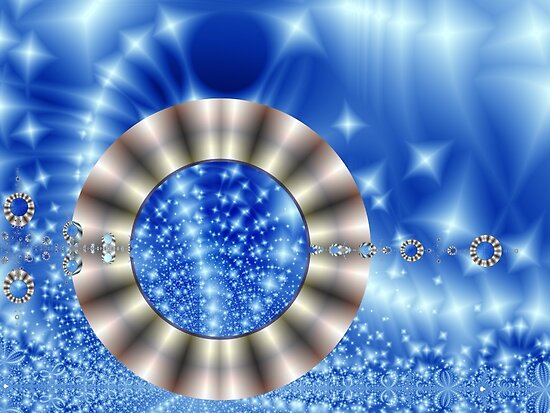 I imported the image into Photoshop as a .psd file so that I could use layer effects on the trap shape. I used a standard drop shadow and then added a black-to-white radial gradient overlay to give it more of a spherical look. I then duplicated the layer and overlaid a pastel rainbow gradient.
On the background I used the Flaming Pear Lacquer filter on a duplicate layer and then used "Overlay" to blend it with the original to give it an embossed look. I then added a new layer and overlaid a rainbow gradient. One of the problems I have with working on Nova formulas is that there are portions of them that look too busy, which you can see at the bottom of the original fractal. To counteract this, I added the water, using the Flaming Pear Flood filter and softened it with the Nik Glamour Glow filter.