5/30/11 – Featured in the HIGH QUALITY IMAGES Group.
This is another aged version of the gazebo in Depot Park, which is located in the Historic District of Kalispell, Montana (USA). I wanted an antiqued version of the park without the presence of cars. I tried to give this image the look of old photos that have been tinted.
Depot Park is part of the original Burlington Northern railroad station. The tracks run alongside it and the buildings you see in the background are part of the old loading dock, which was later turned into a bingo parlor.
The other image in this set: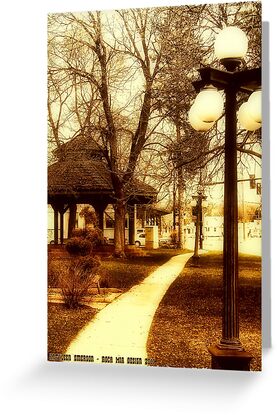 Depot Park (Historic District, Downtown Kalispell)
by rocamiadesign