2/26/11 – Featured in the IMAGEWRITING Group.
2/27/11 – Featured in THE WORLD AS WE SEE IT Group.
3/2/11 – Featured in THE BEGINNER'S CORNER Group.
3/2/11 – Featured in the INDIGENOUS ARTISTS Group.
3/7/11 – Featured in the BEFORE AND AFTER Group.
3/7/11 – Chosen as "Image of the Week" by the Before and After group.
4/1/11 – Featured in the UNITED STATES MONTHLY THEMES Group.
4/27/11 – Featured in the FEATURED FOR A CHALLENGE Group.
7/18/11 – Featured in the ELITE IMAGES Group.
FIRST PLACE WINNER (tied) in the Voucher Challenge for April 2011 in the Featured for a Challenge group!
TOP TEN WINNER in the April Avatar Challenge, hosted by the It's What Moves Me group.
369 views on 1128/11.
Shaun, Ann and I were driving back from our trip to Port Townsend and it was dismal and rainy through the entire trip. The one bright spot was in the middle of nowhere, near Ritzville, Washington (USA). It was flat prairie for miles around, definitely not our favorite part of the drive. Shaun stopped at a conveniently placed rest stop and Ann and I took several photos.
This rest stop was like an oasis for us, with beautiful landscaping and a parklike walk. The rainbow made a perfect finishing touch. I uploaded "Double Rainbow" first, but this is my favorite of the batch, because you can see the rural landscape. I hope you enjoy this "touch of Eden" as much as we did.
Photo taken in October, 2010, near Ritzville, Washington with a Kodak EasyShare Z712 IS camera.
I used Photoshop CS and the wonderful Topaz DeJPEG filter to get rid of the low resolution detritus. I then adjusted the contrast and levels and added a duplicate layer on soft light, with a 20 percent opacity to brighten the colors and sharpen the detail. You can get the same effect with overlay, but I prefer the subtler look of soft light. Topaz Adjust was used with one layer for HDR. I finished off with the Nik Glamour Glow filter to give the dreamy look. This filter tends to overlighten many photos, so I finished with the Nik Graduated Neutral Density filter to darken the photo.
- Kathleen -
Below is the original photo: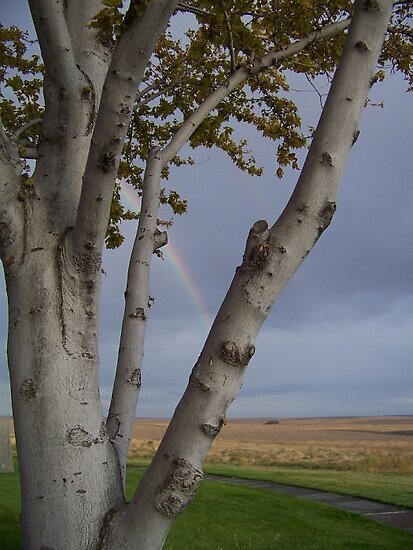 Another photo of this tree, which places more emphasis on the rainbow: