words that describe this image:
kathleen emerson, roca mia design, transformation, butterfly, metamorphosis, batik, purple, flowers, photomanipulation, pastel colors, renewal
329 views and 41 favorites as of 1/1/11.
"And be not conformed to this world: but be ye transformed by the renewing of your mind, that ye may prove what is that good, and acceptable, and perfect, will of God." (Romans 12:2)
The Koine Greek word used for "transformed", in the above verse, is metamorphoo, which is the word that also gave us "metamorphosis". Because of the metamorphosis that caterpillars go through to become butterflies, these beautiful creatures have become a symbol of transformation.
I've been thinking a lot about transformation lately. I believe that it is never too late to transform yourself, no matter how old you are. I've decided that my personal transformation will consist of forgiving everyone who has ever hurt me or my loved ones and refusing to say anything negative about anyone. Watching my mouth is the hardest change to make, but I believe that it can be done.
To make this image, I started with my Fireweed photo and inversed the colors on it. I added my own texture, which was made with the Redfield UMatrix plugin and modified with several filters in Photoshop UF. I placed the texture between layers of the image to give it a subtler look, and then added the butterfly.
If you look below the flowers on the right, you will see a man or woman, looking toward the butterfly, striving to make the same type of transformation.
Below is the original image that I used to make "Transformation". Photo taken with a Kodak EasyShare Z712 IS camera.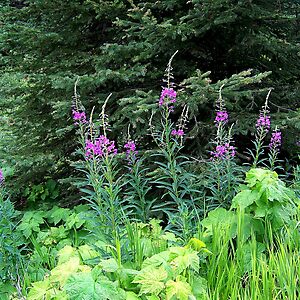 FEATURED in the RedBubble Featured Art and Photography gallery.
8/26/10 – Featured in THE WORLD AS WE SEE IT Group.
8/27/10 – Featured in RB's POPULAR ART AND PHOTOGRAPHY.
8/26/10 – Featured in the BITS AND PIECES Group.
8/30/10 – "Pic of the Week" in the BEFORE AND AFTER Group":http://www.redbubble.com/groups/before-and-after. Mike Oxley writes, "A beautiful, ethereal work. A wonderful composition with lovely complementary colours."
8/30/10 – Featured in the BEFORE AND AFTER Group.
8/30/10 – Featured in the INSPIRED ART Group.
9/3/10 – Featured in the REPRESENTATIONAL DIGITAL ART Group.
- – - – - – - – - -
TOP TEN WINNER in the Just My Imagination challenge hosted by The World As We See It group.