FEATURED in the RedBubble Featured Art and Photography gallery.
8/7/10 – Featured in THE WORLD AS WE SEE IT Group.
8/7/10 – Featured in the LIVE, LOVE, DREAM Group.
8/7/10 – Featured in the LIVE AND LET LIVE Group.
8/9/10 – Featured in the POINT AND SHOOTERS Group.
8/18/10 – Featured in the PACIFIC NORTHWEST Group.
9/23/10 – Featured in the TOTALLY AMATEUR PHOTOGRAPHY Group.
4/22/11 – Featured in the FEELIN' GOOD Group.
4/25/11 – Featured in the IN HIS NAME Group.
5/20/11 – Featured in the A LITTLE BIT COUNTRY Group.
5/28/11 – Featured in the FEATURED FOR A CHALLENGE Group.
7/17/11 – Featured in the COUNTRY ROADS AROUND THE WORLD Group.
563 views and 30 favorites, as of 4/21/11.
I took this last weekend, on our trip into the mountains to pick huckleberries in the Flathead Valley, northwest Montana (USA). It's beautiful country and it refreshes my soul to go up there. I wish I could spend my entire summer camped there. We used to take all four of our sons to this spot to set up camp. There is a side road that follows Canyon Creek, but the Forest Service has put a kelly hump up to block it, as they have over 90 percent of the roads in the woods here.
Huckleberries have become a big business, especially with so many people having been laid off here. They wholesale for $35 per gallon and retail for between $50 – $200 per galloon, depending on where you are. There are several reasons for the high price. Having to compete with grizzly and black bears is one. Because many of the roads leading to the best berry crops have been closed down by the Forest Service, the public has been denied access. Without people walking through the patches, willows, thimbleberry bushes and other brush have been able to overgrow the huckleberry patches and choke them out. Several years of drought have taken their toll and the use of pickers, a handmade tool that rakes everything, berries, leaves and twigs, off the bush have destroyed once plentiful patches.
Huckleberries are a very picky crop, refusing to grow on domestic soil, in spite of years of study by scientists. They depend on moist, acidic soil and seem to need decomposing pine trees to thrive. You should look for very steep terrain, with plenty of fallen timber, as it holds the moisture for the berries. You'll find the best ones in the shade, under a forest canopy, in old burns. You have to be careful, though, because prime huckleberry areas tend to be slippery, as well as steep. Every serious huckleberry picker has a sad tale of a hard day's worth of picking being spilled down the mountainside. Another frustrating, but common, experience, is to spend an hour hiking into the huckleberry fields, only to be chased back out by thunderstorms or bears.
If you are fortunate enough to find huckleberries and pick them, it's important to pick out twigs and pine needles as soon as possible, as they will pierce the fragile berries. Do not wash them until you are ready to use of freeze them, as they will sour quickly once they get wet. If your berries get wet while you are out picking them, spread them out in a single layer, in a wide, shallow box, lined with paper towels. Once they are dry, you can put them in a ziplock bag in the refrigerator until ready to wash. I wouldn't recommend keeping them this way for more than four or five days. It's important to keep them sealed in the refrigerator because the flavor will pervade everything else, especially milk.
- Kathleen -
Taken August 1, alongside Canyon Creek, behind Big Mountain, in NW Montana (USA), with a Kodak EasyShare Z712 IS camera. The creek runs between the trees and the grass, on the right side of the road.
You can see the smaller, high mountain huckleberries, in my Veteran of the Forest, below: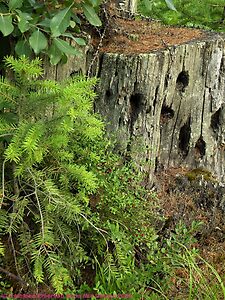 - – - – - – - -
10/15/10 – TOP TEN WINNER in the Country Roads challenge in The World As We See It group.
11/5/10 – TOP TEN WINNER in the Landscapes challenge hosted by The World As We See It group.