Photo taken in a field near our home in Columbia Falls, Montana (USA).
These are called Prairie Smoke flowers, Old Man's Whiskers or Three-flowered Aven in their seed stage. The Latin name is Geum triflorum Pursh.
Geum triflorum thrive in most of the northern and western states of the U.S. and most of the Canadian provinces. They are listed as threatened in Michigan and New York. These flowers are perennials and flower from May through July. The plants grow to a height of 6-18 inches.
This makes a set with the prints below: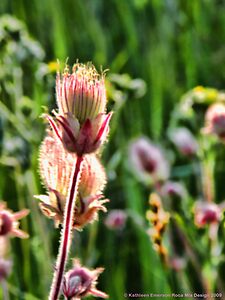 Make: NIKON
Model: COOLPIX P80
Shutter Speed: 10/2240 second
F Number: F/5.6
Focal Length: 27 mm
ISO Speed: 64