562 views on 4/15/11.
3/05/10 – Featured in the BEAUTIFUL WOMEN Group.
3/06/10 – Featured in the SILKY TOUCH Group.
3/14/10 – Featured in the LOVE AFFAIR WITH THE LENS Group.
3/19/10 – Featured in THE WORLD AS WE SEE IT, OR MISSED IT Group.
5/7/10 – Featured in the AROUND THE WORLD Group.
7/1/10 – Featured in the UNITED STATES CHALLENGE THEMES Group.
7/18/10 – Featured in the ALPHABET SOUP Group.
12/25/10 – Featured in the HOLIDAYS AND SPECIAL OCCASIONS Group.
8/19/11 – Featured in the SUPERBLY VISUAL Group.
1/10/12 – Featured in the TEMPORARY HOST HELPERS Group.
11/18/12 – Featured in the HOSTING TUTORIAL CLASS Group.
This was taken in August, 2009, at Woodland Park in Kalispell, Montana (USA), with a Nikon CoolPix P80 camera. Picture is straight from the camera.
I haven't had a chance to go through all my wedding photos yet, but I thought I would introduce you to Shaun's new wife, Anita. This is my favorite portrait of her, taken during the ceremony. There were more people there, taking pictures, than there were in the wedding party. I only managed to get a couple photos without another photographer in it.
This was my second foray into wedding photography. The only problem was the bride's parents, who had video cameras and stood almost nose to nose with the bride and groom. Out of seven cameras at the event, there were only a few clear pictures, that didn't show the parents taking pictures. Next time I do a wedding, I'm going to make sure that there is a clause keeping everyone else out of the way.
I love the expression on Ann's face here. It's more thoughtful than the usual "blushing bride" look that we expect. We have been superblessed to have Ann in the family. She's not only beautiful, she's sweet, smart (she has a master's degree in psychology) and she cooks authentic Indian food! What more could I ask for?
Other photos from the wedding: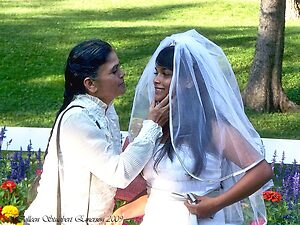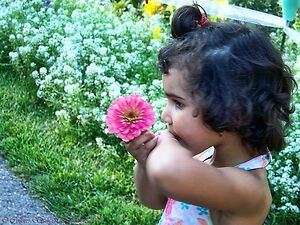 TOP TEN WINNER in the You May Now Kiss the Bride challenge, hosted by the If It Doesn't Belong group.
SECOND PLACE in the Pretty Woman challenge, in The World As We See It group.
TOP TEN WINNER in the It's Not Just a Piece of Clothing challenge in the Speaking Photos group.
TOP TEN WINNER in the Brides challenge in the Theme Thursday, Feature Friday group.
SECOND PLACE WINNER of the Brides challenge in THE WORLD AS WE SEE IT group.
TOP TEN WINNER in the August Avatar challenge for the Everyday Women group.
Make: NIKON
Model: COOLPIX P80
Shutter Speed: 10/1325 second
Aperture: F/4.5
Focal Length: 84 mm
ISO Speed: 198
Date Taken: Aug 21, 2009, 6:31:04 PM
Photo taken in natural light.