Butch Was So Much More Than Just a Blow Up Doll (WARNING: Adult Situation and Photos)
My sister was turning 40 and I wanted to make sure she had a birthday party to remember. I invited all of her friends and planned a night of all nights. It ended up there was a blizzard and many couldn't make it, which is besides the point, but this is the story of Butch, who almost stole the spotlight away from the birthday girl.
.
As part of the festivities, in addition to good food, good alcohol and good friends, I wanted the night to be all fun and games, and all about Sheri. In addition to Sheri Jeopardy, I wanted to play a Pin the Tail on the Donkey kind of game, but tailored to my sister. Since she was a massage therapist, I thought it would be fun to play pin the massage hands on the client. I found all kinds of pictures of hands, cut and pasted sayings about hands onto each one (i.e.-a bird in the hand is worth two in the bush). I thought it would be fun if each participant picked a hand from a bag, read the saying and would then be blindfolded and sent on their way with their paper hand and some tape.
.
About two weeks before the party I thought it would be funny to make the client someone less than desirable for a massage therapist to want to work on. I went about finding a poster of a sweaty hairy man. When I couldn't find something like that, I thought, "ok, maybe I can find a poster of something like a plumber bending over and showing his butt crack." No luck there either. I started to get depressed (not really) about not being able to find what I was looking for. At this point I decided to consult my best friend (Fran) and her sister (Amy), who was my sister's best friend (did you get that?). When we put our heads together, we decided it was possible that an adult store might have the kind of poster we were looking for, and if all else failed, we'd buy a life-sized poster of a hot guy, which could be fun in a completely different way.
.
We went to the closest adult store and promptly asked the clerk if they sold any photos of "disgusting" naked men. I think the clerk himself was disgusted by our request. He pointed to the area where if they sold anything like that, it would be there.
.
As Fran and I looked through the posters, Amy said aloud, "Hello Butch!" We turned around, figuring someone we knew caught us in the store. Amy was now laughing so hard that she couldn't spit out what she was trying to say, so she pointed. She pointed at a shelf high above our head. Up on the shelf was a box. In the box was "Butch." We had never seen a male blow up doll before (to be honest, we had never seen a female blow up doll 'in person' before either). Without opening the box, we ended up buying Butch.
.
Upon leaving with our new purchase, in the car Amy opened the box to find that Butch was basically life-sized. We realized there wasn't a chance in hell we were going to be able to blow him up and none of us owned a bicycle pump. Being the three geniuses that we are, we took Butch to a gas station to blow up with the air used for tires.
.
As Butch was filled with air, it became obvious that Butch wasn't just any blow up doll. He was a VERY WELL endowed blow up doll. It also became apparent that his manhood was removable because as we continued to blow him up (mind you I just had a typo here and had written blow him off, omg!!!), his fake penis fell off. At this time we were laughing so hard we had tears rolling down our cheeks. We kicked it back and forth because no one wanted to pick it up. I finally picked it up and exclaimed "WTF is wrong with us? It's not like it's been used!" (Or at least not to our knowledge!)
.
What became even more apparent to us was that Butch was bisexual or gay. We didn't have a problem with this, but it was amusing and eye-opening to find that he had input areas in his mouth and in his, um…butt.
.
Now that Butch was blown up to his full size, Fran decided it was very important to run around the parking lot with him on her shoulders. That was a little bit too much for even me, and we made her get into the car. She re-attached his (non) throbbing member.
.
When I arrived home, I told my husband we had company and Butch and I walked into the room. He told me he didn't want to know, and shook his head the way people do when they don't want to know.
.
The next step was to figure out how to place him so that we could play the game at the party, which was now only days away. After many attempts and different positions, all of which made him fall either forward or backward as if he was on a trapeze, I realized, the ONLY way it was going to work was to hang him by his neck from the ceiling. By the time I figured this out, my husband had already gone to bed.
.
Upon awakening and leaving the bedroom, my husband was greeted by a naked blow up doll with an erection and a seductively waiting mouth and behind, hanging by the neck, in a noose, in our den. Upon my waking and leaving the bedroom, I was informed by my husband that we had a problem with one of our appliances and I had to call a repairman.
.
I knew if I took Butch down, I'd never get him back up again, so instead of taking him down, I dressed him in my clothes (because my husband's clothing would have been too large), so the repairman wouldn't think we were crazy. Why would he think we were crazy? We only had a cross-dressing blow up doll hanging from a noose in our den! Ha ha!!!
.
Now let's talk about the night of the party:
• My parents were appalled, but impressed at the ingenuity that was put into all of the games, especially Butch.
• My other sister is Andrea. Her ex boyfriend was at the party, for he remained good friends with the family. He had, however, earlier in the year, come out as being gay, and was fighting Sheri for taking home Butch after the party, or at least for the removable parts. Yes this was all in jest.
• Me being the wonderful daughter that I am, when it was my mother's turn to play, I led her hand directly to the dildo, and for the first time in years, she hit me.
• When it was Andrea's turn, she knocked Butch's manhood off of his body (she is a bull in a china shop). Upon trying to give it back to him, she promptly stuck her dragon fingernails through him, thus, popping poor Butch. The only thing that didn't go limp was, well, you know! What a man!
• Again being the good daughter that I am, I threw "it" at my mother.
Below, please find photos of our poor deceased Butch. He was so much more than just a blow-up doll. He was the life of the party!
.
.
Fran and Butch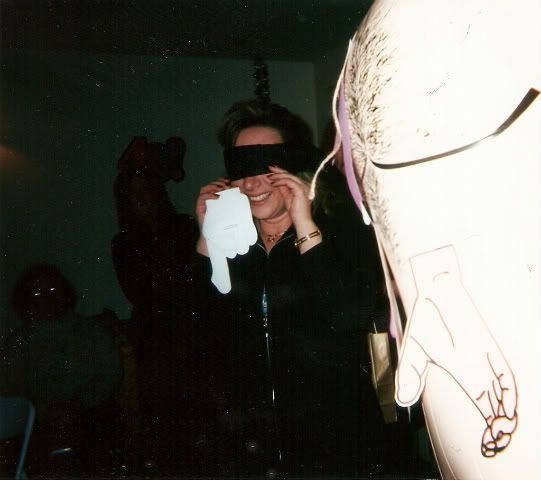 .
.
A friend and Butch


.
.
Sheri (crying) and Amy with Butch (now looking like a female with no boobies and a hairy chest)


.
.
Sheri and me with Butch after attempting to restore his dignity. He wasn't very happy to find out this was the closest he was getting to receiving a BJ.