International Target Fireworks Coverage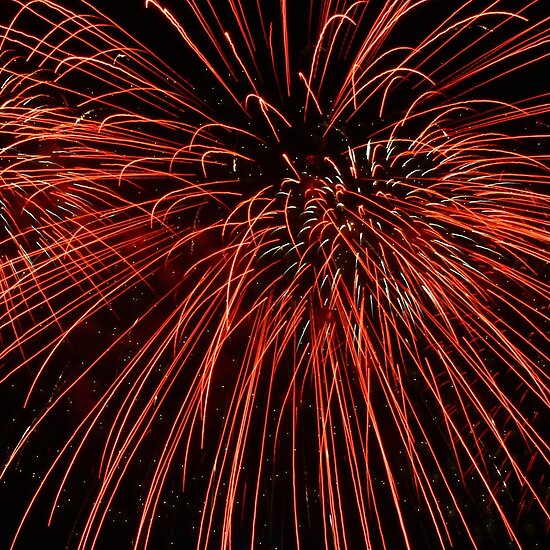 I live in Windsor, Ontario, Canada, right on the border of Detroit, Michigan, USA.
Every year on the first Monday of summer, hundreds of thousands of people gather on both sides of the Detroit River to watch what has been billed as the biggest fireworks display in the world, the International Target Fireworks. Formerly the Freedom Festival Fireworks until the Freedon Festival company declaired bankruptcy, the display entered it's 53rd consecutive year this year. It's something I've grown up with, have always known to be, and is never disappointing.
The streets in Downtown Windsor's core are closed to vehicle traffic at 6:00 PM on the day of the display, and all roads are opened up to pedestrian traffic and use. Lawn chair after lawn chair and blankets aplenty are unfolded, some people staking their claim as early as noon. And just after the sun sets, and the clock strikes 10:06 PM, both a Canadian and American flag are flown by helecopter along the river – the ceremonial commencement of the spectacle that's about to begin.
This year, I had the pelasure of being assigned to shoot the 23 minute display for the local online news website I write and shoot for, windsoriteDOTca. It was an amazing experience, and the feeling of the atmosphere when you're down amongst the throng of people all there for the same peaceful, fun purpose is just something else. The display this year consisted of over 10,000 pyrotechnic devices, and as always were launched from three barges on the Detroit River.
If you want to see the article, which is mostly photos with a quick little write-up, head on over here. To give the shots a little perspective, the building in the background with the blue lights is Detroit's Rennaissance Centre. The central, tallest tower rises 230 meters, or 750 feet into the air. This is no little display! I'm certain if you searched on YouTube, you could find some video of the event as well. So if you're ever in the Windsor-Detroit area around this time of year in the future, plan to make an evening along the riverfront with some good people around you. It's a great time.