Out of sight, out of mind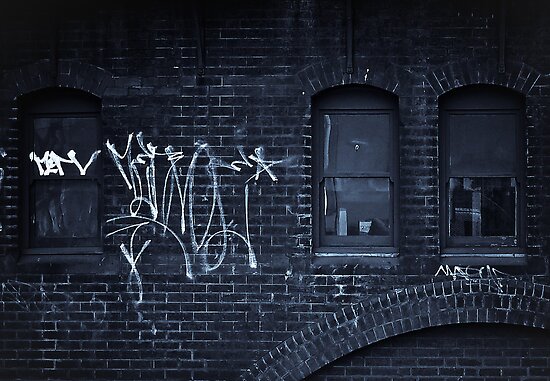 Through the teeming rain, the ball of light looms larger and brighter as the train bears down on the signal house. Only at the last minute, when all four headlamps are clearly distinct, does the girl bow her head to be sure the driver will not see her face.
Jewels in the flare of the advancing lights, the raindrops bounce off steel rails, cascade over wooden sleepers, and swirl down concrete gutters – rare beauty flushed to the drains and a distant, grey sea.
The signal house rears up in front of the driver like the haunted house on a Ghost Train – expected, but startling just the same. Wheel flanges shriek as the blinded points wrench the train away from the derelict building. Headlights trace a fleeting search across the row of painted-out windows behind which the girl is hiding. Blades of light stab through holes in the glass like swords thrust into a magician's box. The girl turns to watch the shadows chase the frantic sabres of light around the room and out into the night. The shadows regroup, smothering her in darkness. The clatter of the train fades to a background rattle of rain on the tin roof.
Hands on the wall, her reckless fingers crab their way back to where she sleeps. But the trains have not finished with her yet. She sags to the floor to sit with crossed legs and pulls an old blanket over her head. In the feeble beam of a failing torch, she grips a precious, dog-eared book – her place marked with a tattered train ticket. With solitary pleasure she begins to read, reuniting with her trusted friends.
She has the building all to herself. At night she is part shadow, coming and going in the dark without being seen. Now she can sleep without fear, protected by the signal house – a forgotten island in a sea of shining metal, surging around her in daily, tidal motion. Every day the commuters rush towards her in their thousands, only to veer away at the last minute like flocked starlings in blind pursuit of their slightest whim.
After midnight, in the few hours when the sounds of tortured steel finally flee the yards, she closes her book, curls up in the dark, and sleeps to forget. But in the morning, as the trains thunder passed shaking the building, she wakes to find herself screaming for all she is worth – her wailing drowned out by the infernal din. With this stolen voice she rages against loveless parents and a heartless world distracted by its own incessant motion.
They never searched for her; didn't notice she had gone. They know she is one of many, but do not believe the numbers. She has become invisible; no one wants to know she is there.
She is just another neglected dog at the end of its chain, howling at the moon.