| | | | | |
| --- | --- | --- | --- | --- |
| | | My contribution to the Solo Exhibition, SoJie 12 Traditional Art Workshop July 2011, was beautifully translated to a traditional oil painting by Frannie Moore | | Shadows Don't Lie by F.A. Moore |
This painting by Frannie Moore was completed during the SoJie 12 Workshop (scroll down to halfway) , and translates my image, "Waiting for Miracles" in ways that portray in their own unique ways the emotions and meanings that I tried to present in my photograph. I am so honoured that Frannie chose my photo to paint in such a wonderful way. Please use the link to go to her gallery and read how she created the painting.
---
Although big cities bring people into close proximity to each other, they do not necessarily bring them closer together as friends. To be alone in a city can be more isolating than being in total solitude. Day after day, the alienated spend their time hoping for companionship…
… waiting for miracles.
… title from the lyrics of a song by Lhasa de Sela – see video
My Name by Lhasa de Sela, Jérôme Lapierre, Vincent Ségal
Why don't you ask me
How long I've been waiting
Set down on the road
With the gunshots exploding
I'm waiting for you
In the gloom and the blazing
I'm waiting for you
I sing like a slave I know
I should know better
I've learned all my lessons
Right down to the letter
And still I go on like this
Year after year
Waiting for miracles
And shaking with fear
Why don't you answer
Why don't you come save me
Show me how to use
All these things
That you gave me
Turn me inside out
So my bones can save me
Turn me inside out
You've come this close
You can come even closer
The gunshots get louder
And the world spins faster
And things just get further
And further apart
The head from the hands
And the hands from the heart
One thing that's true
Is the way that I love him
The earth down below
And the sky up above him
And still I go on like this
Day after day
Still I go on like this
Now I've said this
I already feel stronger
I can't keep waiting for you
Any longer
I need you now
Not someday
When I'm ready
Come down on the road
Come down on the road
My name, my name
Nothing is, nothing is the same
And I won't go back
The way I came
My name, my name
Nothing is the same
---
Candid Street Photography
Single capture; desaturation; brightness & contrast adjustment; cropping
---
Featured on the RedBubble Home Page, 1 Dec 2010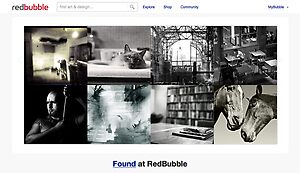 ---
See the whole Alone in the City Series