Views: 450 as of 8-24-12
Full Flower Moon a poem by RestLeSsD
When the Full Flower Moon
Comes out in full bloom.
The life that's been sleeping
Awakens to the seeking.
This globe of pure fire,
Ignites the desire
Of all living things
To burst forth in the Spring.
As life is renewed
All warmth is imbued
From Winters cold slumber
To reach for the Summer.
a rhonda original© 2012

American Beauty ~ Thomas Newman
Full Moon names date back to Native Americans, of what is now the northern and eastern United States. The tribes kept track of the seasons by giving distinctive names to each recurring full Moon. Their names were applied to the entire month in which each occurred. There was some variation in the Moon names, but in general, the same ones were current throughout the Algonquin tribes from New England to Lake Superior. European settlers followed that custom and created some of their own names. Since the lunar month is only 29 days long on the average, the full Moon dates shift from year to year. Here is the Farmers Almanac's list of the full Moon names.
Full Flower Moon – May In most areas, flowers are abundant everywhere during this time. Thus, the name of this Moon. Other names include the Full Corn Planting Moon, or the Milk Moon.
Digital Painting of my own photographs shot with a Kodak EZS M995. Taken from my front yard in Canyon Lake, CA., USA. Blended in PSCS5 using a DAP Layer & etchings with my Wacom Bamboo. . .


5-13-12 Artists Universe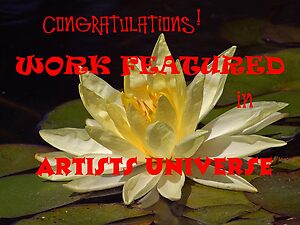 Comments: 37
Favorites: 10
Views: 450
Digital Painting of my own photographs shot with a Kodak EZS M995. Taken from my front yard in Canyon Lake, CA., USA. Blended in PSCS5 using a DAP Layer & etchings with my Wacom Bamboo