Art inspired by this beautiful song by Patti Griffin read the full lyrics below the video. . .
As far as I can tell most everthing means nothing, except some things that mean everything. . .

Railroad Wings – Patti Griffin
Lyrics to Railroad Wings by Patti Griffin
You took a silver train all the way to Maine
On the way to everything,
Railroad wings
There's things you don't know you know
I thought anger told me what to do
With emptiness chasing me
On the border, I found you
You should've heard her sing
Railroad wings
This emptiness has followed me like a cold blue sky
And it has not been easy for you
There's things I'll never tell you till the day I die
Things I've done I can never undo
Hiding everything
Railroad wings
All these years along, the lights are growing dim
I hear you sing your song in the next room
And as far as I can tell, most everything means nothing
Except some things that mean everything
Railroad wings


Jul 12, 11 California Love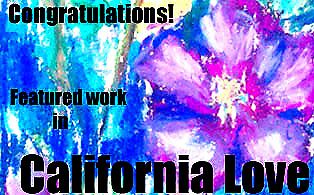 May 6, 11 PHOTO PAINTERS


Mar 22, 10 Inspired Art


Mar 22, 10 Cee's Fun & Artsy Friends


Mar 14, 10 "Favorite Places, U Take, Make or Paint":

Mar 14, 10 Before & After


My own photos treated in DAP and Photoshop to create a digital painting.
My original photos shot with Nikon CP8400. Train is from a stop I made just off of the 15 freeway on the Cajon Pass, the trestles shot in Oceanside, CA, USA during the late Indian Summer of 2009. It is of a high tide overflow bay across from the beach next to Buccaneer Park.
2 parts of stock images from stock.xchng
Bird brushes from ObsidianDawn
R is for railroad
472 views as of Jul 12, 11
THANK YOU