(please listen to the music as it enhances the viewing experience)
Although he is known as the Crimson King he is not actually Crimson in color. He is known as this due to the fact that he wears a red coat. Not only that, he is known for his love of all creatures and therefore his red heart that he wears on his sleeve.
He still retains his 2 original stingers that he was born with. His gentle and kind nature came into play many times in his life where he would have been expected to use these painful, death-welding stingers.
He travels throughout the galaxies on his mobile throne visiting the many planets including the Princesses' realm of eKtel LeLand . She is very fond of the Crimson King and enjoys his impromptu visits several times a year during the tidal climax. They will meet during this time to celebrate the Celestial Planetary Solstice.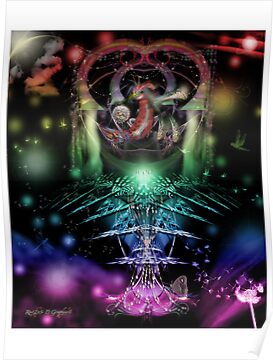 A fantasy story – this image started as 4 fractals created in Apophysis 3D Hack and Incendia layered and manipulated in and evolving into this. Partly inspired by the bug fractal then by a dream which included the song. The king himself is comprised of images of a bird beak & eye, the body is part of a wasp with a stinger and the wings are from a dragonfly all stock images from stock.xchng.
Digital enhancement and post-treatment in PSP & PSCS2.

In the Court of the Crimson King – King Crimson
#26 in the princess series
Details
Bug King & Throne


Interplanetary Mobile Throne Adapter

Original Images



Mar 30, 10 Group Incendia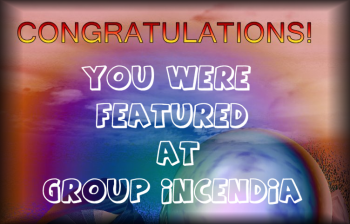 Feb 17 Gothic Skull Fire
Feb 15 Music Inspired Art


Feb 9 Inspired Art


Feb 8 A Fractal Energy Passion



Apr. 11 TOP TEN California Love ~ Flashback Challenge

!:http://www.redbubble.com/groups/california-love...
PS Brushes used created by: obsidiandawn & redheadstock
Thank you. . .
Apr 11, 11 – 1072 views

SALE 9 Apr 11 ~ 1 Laminated Print