Digital photo painting of an Eastern Phoebe Flycathcer.
"Until one has loved an animal, part of their soul remains unawakened."- Anatole France
Species info.: courtesy of birdhouses 101.
Eastern Phoebe is among the earliest spring migrants. These sparrow-sized creatures are medium-sized flycatchers which have gray-brown, olive feathers above and whitish ones below. They lack eye rings and wing bars. They are similar to Eastern Wood Pewees, but they lack the species' wing bars and orange lower mandible. Male or female sexes are alike. Juveniles have browner upperparts than the adults and have buffy wing bars which disappear as it grows. The size of an adult phoebe is 6" to 7" long.
-————————————-
Original image taken with a Canon DSLR & 100-400mm f4.5/5.6 IS L lens on my property in Prince Edward County, Ontario, Canada.
Tonal adjustments in Digital photo professional & Photoshop. Photo painting completed in Corel Painter X using a Wacom Tablet.
-————————————-
Thank you for viewing my art.

Black Box frame & bright white matting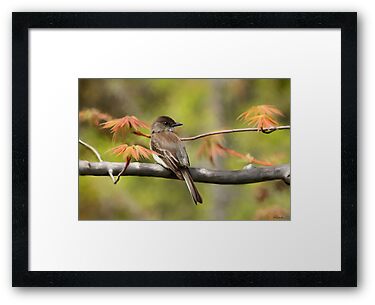 Digital Portrait Painting – Photo Painting Services
Bird Gallery
"**ADD RENEE TO YOUR WATCHLIST** ":http://www.redbubble.com/mybubble/watchlist/add...