"Until one has loved an animal, part of their soul remains unawakened."- Anatole France
1530 views – March 21, 2011
Featured in Fine Art Digital Painters,
The Woman Photograher, & in REDemption, January 24, 2010.
Digital photo painting of a male English-House Sparrow. Artwork completed in Corel Painter X using a Wacom Tablet. Original image taken with a Canon EOS Rebel XTi and 100-400mm f4.5/5.6 lens on my property in Prince Edward County, Ontario, Canada.
Texture added to perimeter by hand in Painter. Cloud image overlay from my personal library.
English-House Sparrow before & after:

Sparrow – detail crop

The House Sparrow is a member of the Old World sparrow family Passeridae. It occurs naturally in most of Europe, the Mediterranean basin, and much of Asia.
It has also followed humans all over the world and has been intentionally or accidentally introduced to most of the Americas, sub-Saharan Africa, New Zealand and Australia as well as urban areas in other parts of the world.
It is now the most widely distributed wild bird on the planet. It is strongly associated with human habitations, but it is not the only sparrow species found near houses. In the United States it is also colloquially known as the English Sparrow to distinguish it from American sparrows.
Black Box Frame & Bright White Matted Print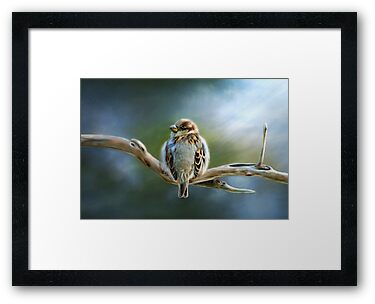 Digital Portrait Painting – Photo Painting Services
Bird Gallery
"**ADD RENEE TO YOUR WATCHLIST** ":http://www.redbubble.com/mybubble/watchlist/add...