When I Tells Ya, Skate Varmint, Skate!
Empire Park, Bar Beach – New South Wales, Australia – April 2011.
The old school skaters held a re-union for people that have been skating since the mid to late 1980's. This is an unidentified younger skater doing a skate trick called a Hip Ollie from the deep section of the skate bowl over the "hip" and into the shallow end.
The skate shot was taken with a Canon 450D and a standard Canon 18 – 55 mm lens set at 45 mm, ISO-200 and 1/2000 second in Shutter Priority Mode.
I recently photographed the Yosemite Sam photo which was part of a full wall of Graffiti and I digitally chopped up that shot to incorporate into this artwork.
The original digital photograph, captured as a RAW file: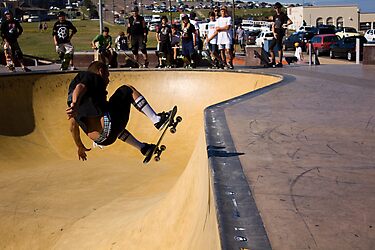 The edited image, available for sale: