""The lion and the lamb shall lie down together, but the lamb won't get much sleep!"…Woody Allen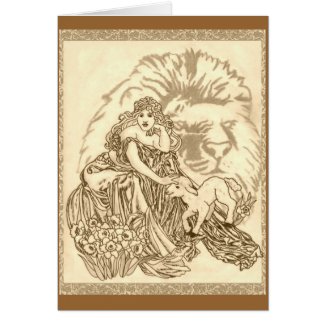 March Winds Card on Zazzle
This was inspired by the cold front that just blew everything off my back porch and into the neighbor's yard.
Pencil and ink drawing on 9″×11″ sketchbook paper


Personalized March Winds Ipad Case
The March birthstone is the bloodstone. It is sometimes called "St. Stephen's stone." It is a closely compact opaque variety of quartz with a background color of dark green, mottled with irregular spots and streaks of red.
The ancients called the bloodstone "jasper." It was one of the gems in the breastplate of the High Priest.
In Great Britain, the common name for the bloodstone is "heliotrope."
The alternate birthstone for March is the aquamarine, also known as beryl. It is a native silicate of aluminum and the light metal, beryllium, and has the same chemical composition as an emerald.
The name "aquamarine," means "sea water." These gems are transparent and translucent, varying in hue from pale blue to deep blue. There is also a bluish-green variety.
The March flower is the Jonquil or Daffiodil. If you are born in March, you may claim either of these flowers as your birthmonth flower. Since both have yellow flowers and bloom in the spring, jonquils and daffodils are often confused.
"If March comes in like a lion, it will go out like a lamb."
Star Filled Zodiac Calendar on Zazzle