Changes We've Made Since the Rebrand

Redbubble by Gideon du Preez Swart
A few weeks ago, we posted an update on the Redbubble rebrand project to let you know we were digesting your feedback and working on some additional tweaks and changes. These changes have now been released so it's time for an update on our update. Here's a rundown on the most interesting bits, some of the things you asked us to address and a few added extras.

A List of Things We've Added and Tweaked:

Your homepage now has a memory. The site now remembers whether you were last browsing Found, Following or Activity and returns you to that page when you next click on the RB logo or on your name in the top right-hand navigation when you are logged in. If you spend your life sifting through your Activity feed, you'll now be directed straight back there. And if you spend your days staring at the wonder that is the Found feed you'll be plonked back there automatically next time you're out exploring the site and want to return to the comfort of your homepage.

Journals and Written Works now look lovelier in your Following feed. As a bit of an added bonus we've made some changes to how these posts appear in your Following feed so viewers are teased and tempted to read more. They look smashing in amongst the visual works and we think this new treatment does a better job of showing off your ponderings and prose.

A link so you can easily see your Followers. Head to the 'Following' page on your profile when you're logged in and you'll see a new link to a list of your followers. This is only visible to you.
Sorting Groups alphabetically. This one is pretty straightforward. You told us that alphabetical works better for you, and we obliged with a tweak to the order of things.

Cover images on collections now look shinier. The response to the previous cover image design was mixed so we took your feedback on board and set about coming up with an alternative design.


Collection cover images from Terry Fan, Jo Pugh, Alfonso Bresciani, Harry Gordon, Fay Helfer and Catrin Welz-Stein.

The rebrand project was not aimed at making an immediate impact on Redbubble'€™s metrics but it's worth mentioning one immediate, significant and positive result. In just over a month we've seen a three fold increase in third party social activity (e.g. shares to Facebook, Twitter) on your Profile pages as a result of making the sharing options more prominent. Three times as many people are sharing your Redbubble Profile pages with the wider world. This means many, many more artists are gaining exposure for their work and this exposure goes well beyond the walls of Redbubble.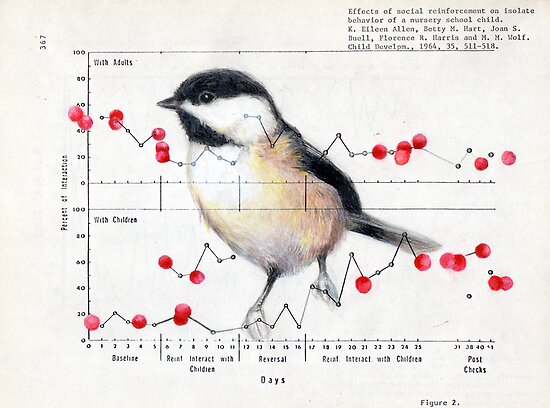 Chickadee and Berries by paulapaints

The Redbubble rebrand gives us a solid foundation we can build upon. It's the most significant change we've made to the appearance of RB since it's inception and we're immensely proud of the way the new site looks. We believe it will help open the door to more opportunities, partnerships and greater recognition for artists and designers. Thanks again to everyone who took the time to write to us via the feedback form, and to those who helped us with user testing prior to launch.
But of course there's no rest for the wicked. Behind the big red curtain we've barely stopped to draw breath. Seriously. People are surviving on instant noodles and adrenaline back here. So you can be sure Redbubble will continue to evolve and develop over time and we'll keep on plugging away to make this the best place on the interwebs for art and design. Stay tuned for future awesomeness.
The Redbubble Team

---
Subscribe to the Redbubble Blog RSS Feed for a regular helping of art and design inspiration.
---