Featured Artist: Ryan Humphrey
Ryan Humphrey has about as much fun with a moleskine sketch pad and a box of Faber-Castells as anyone possibly can. Take a look at his portfolio, but prepare to feel a little funny afterwards: The haunting juxtaposition of surreal images and some pretty sweet tonal work is sure to send your brain on a bit of a bender.
Many of Humphrey's works depict scenes from fairy tales, myths and movies. Others are portraits, or striking, sometimes amusing, beasts from his own imagination. All works, however, reveal a playfulness that the artist exercises to bring characters to life on the page. This is achieved by building a mental collage of a variety of second-hand images and deciding how these will come together in the final product. Quite a mental feat, really, but Humphrey has the technique down to …well, a fine art.
Speaking of which, Ryan Humphrey studied at the University of Creative Arts in Farnham, UK, and used to express himself in paints before concentrating on these brilliant illustrations. He draws inspiration from the likes of Van Gogh, Phil Hale, Lucian Freud and James Jean.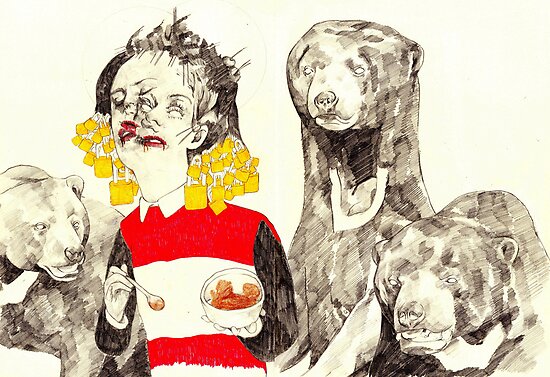 Goldilocks and The Three Bears
---
Subscribe to the RedBubble Blog RSS Feed for a regular helping of art and design inspiration.
---
This is the fourth in a series of artist features on the RedBubble blog. As the readership for the blog grows further beyond the virtual walls of RedBubble, we're always looking for opportunities to promote artists and encourage more eyeballs to take a wander through the RedBubble hallways. We aim to write posts that show off the best the RedBubble community has to offer, that engage and entertain artists – both on RedBubble and beyond – and appeal to art and design lovers far and wide. If you're scratching your head, wondering if there's some method to the madness or if this is an elaborate experiment involving monkeys and typewriters, you'll find a little more information over here.