50 Words, 1 Image and a T
The Sands Have Ran Through the Hourglass – Challenge is Now Closed
Our creative lives have many elements: images, writing, a new t-shirt or even a sticker-clad record player.
And for today's weekend writing challenge, lets bring a few bits together. In the thread below post an image (or a link to an image is also fine) and include a story about it, around it, related to it. 50 WORDS maximum on the story. Deadline is Monday midnight.
And we will give away 3 t-shirts as prizes. You will win the last t-shirt in your favorites. So make sure you have favorited a t-shirt (if you re-favorite one, it will become the last in your favorites).
We will post the winners and their images next weekend.
And here is the handy hint on putting images in threads.
To kick us off Pilgrim shows how it may be done with this image and story.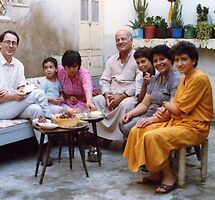 "The messengers passed through Syria. They left tracks in the rocks. Christ was a Jew – among his followers Syrian Arabs. Their churches still stand in Christian villages where Aramaic is spoken. The faiths of Abraham share common bread. I sit with a family in an ancient house enjoying our simple humanity."