I have been doing a few media interviews recently and one of the things I am asked is the origins of RedBubble. So here it is …
In March 2006, Peter, Paul and I got together to discuss bringing print-on-demand to Australia. I have known Paul for over 15 years and Peter for about five. We seemed to have a good skill set to work together with Peter bringing really deep operational skills, Paul a great design sensibility and me almost ten years of online experience.
We spent a number of months working on the whole print-on-demand idea (think Cafepress for Australia) but we were beginning to bore even ourselves to death. Life seemed just a little bit too short to be obsessed with watching printers churn out another mug with a picture of someone's cat on it.
I was particularly concerned that Paul (and his entire design studio) said there was no way they would put their stuff on our first incarnation of RedBubble. You have to think twice about an idea when your team won't use it. We were 'vegans flipping hamburgers' and this was before we got our very own vegan. on board.
As they say "boredom is the mother of invention". We began to re-think and realised that we needed three things to become personally more creative online: a community to support us, a marketplace to sell things and a fulfilment service to get production done. This diagram was drawn on the whiteboard: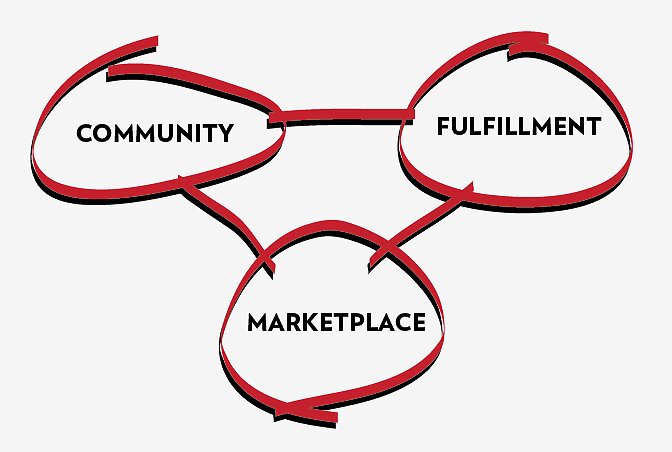 And this diagram is still in my investor presentations. Our offering and strategy has not changed. We have added some things to it. The particular needs of the T-Shirt and Design community were made clear to us by Ed, and most importantly the ideas of 'Honoring the Art' and that We Stand For Artists.
We are obsessed now as we were then with the idea of creating a place where all artists and designers will feel welcome and which would provide them with the tools to advance on their creative journey.
And just for a bit of nostaglia here is the original team (Peter, Paul and Pilgrim with Kath and James) and also a simply gripping snap of the original timeline from April 2006 which was just a little bullish, we eventually launched on 2/2/07. The rest, as they say….