Puffs of red-red powderpuff blossoms and "fruits." Captured at Florida Botanical Gardens in Largo, Florida, USA.
Featured in—Wildflowers of the World-May 6, 2011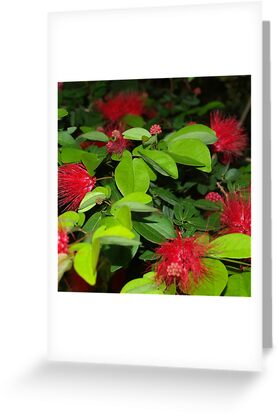 Calliandra haematocephala: Powderpuff
Edward F. Gilman and Dennis G. Watson
Introduction
This large, multiple trunked, low-branching, evergreen shrub has silky leaflets which are glossy copper when new, turning to a dark metallic green. The profuse, fragrant bloom is the main reason for its popularity, with big puffs, two to three inches across, of watermelon pink, deep red, or white silky stamens, produced during warm months.
General Information
Scientific name: Calliandra haematocephala
Pronunciation: kal-ee-AN-druh hee-mat-oh-SEFF-uh-luh
Common name(s): Powderpuff
Family: Leguminosae
USDA hardiness zones: 9B through 11 (Fig. 2)
Origin: not native to North America
Invasive potential: has been evaluated using the IFAS Assessment of the Status of Non-Native Plants in Florida's Natural Areas (Fox et al. 2005). This species is not documented in any undisturbed natural areas in Florida. Thus, it is not considered a problem species and may be used in Florida.
Uses: hedge; specimen; deck or patio; container or planter; trained as a standard; espalier; highway median
Availability: not native to North America
Use and Management
With rapid growth in sandy soils and full sun, Powderpuff bush will respond favorably to regular watering while young but should require no special care once established except an occasional pruning to keep it within bounds. Powderpuff bush may be used as a tall (five to six-foot) flowering hedge and is often seen as a small, flowering specimen tree with the lower branches pruned off. Powderpuff can grow to about 15 feet tall when pruned into a small tree. The long, arching branches form an attractive canopy suitable for patio or container plantings. Pinching the new growth increases branch number and produces more flowers on a more compact plant.
Although plants are damaged by freezing temperatures, they grow back from the base in the spring in USDA hardiness zone 9.
Propagation is by seed or cuttings.
The cultivar `White' has snow-white flowers.
From:http://edis.ifas.ufl.edu/st108
IFAS-the Institute of Food and Agricultural Sciences