Cat's whiskers wildflower. Captured at Florida Botanical Gardens in Largo, Florida, USA. Cat's Whiskers (Orthosiphon stamineus) has elongated white flowers. This is a medicinal herb in the mint family that is used for making Java tea. 105 views as of Feb. 6, 2012
Featured in—Wildflowers of the World-Feb. 4, 2011!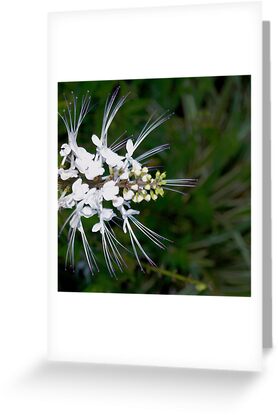 From Dave's Garden website: davesgarden.com
Danger:
Parts of plant are poisonous if ingested
Bloom Color:
Light Blue
Violet/Lavender
White/Near White
Bloom Time:
Late Summer/Early Fall
Foliage:
Herbaceous
Other details:
This plant is attractive to bees, butterflies and/or birds
Requires consistently moist soil; do not let dry out between waterings
Comment from webiste:
On Feb 17, 2006, ForestExplorers from Penang
Malaysia wrote:
How can this plant be dangerous if it can be brew as tea? I personnally use the dried leaves to brew tea. The tea is light golden color and it is very effective for controlling diabeties. Normal people (like myself) without diabeties can also consume the tea without any side effect. It has cleansing effect on our kidneys.
Plant is easily propagated by the cut stem. Easily grow and needs sunshine and water.
From Vanilla Seven Blogsite; www.vanillaseven.com
A tradition of use in Thailand, Malaysia and Indonesia for several centuries. Cat's Whiskers is an esteemed tea for kidney diseases, disorders causing wasting disease, dysuria, and for the treatment of kidney and urinary stones or discharge. Recent research in south east Asia with trials over 1-6 months, showed that patients taking it as a tea made with 4g dried leaf to 750 ml of boiling water, released urinary stones 0.5cm in size for 40% of the patients, and another 20% of the patients found that all pain was gone after the treatment.
Leaves can be used fresh, or dried as an infusion or decoction. The crushed, dried leaves may be encapsulated; the active ingredient retaining its properties for several years when stored in cool, dry conditions. The herb is also used for gallstones. Use 15-20 fresh leaves, a 'finger knob' of fresh turmeric, 7 cloves of garlic, and 1 litre of water, simmer 10- 15 minutes, strain. Half the decoction is drunk in the morning and half in the afternoon.
For rheumatic pains and coughs, a cup of tea is made with 15-20 leaves, drinking 1-2 cups a day.
by flyingbeagle