What may be one of the most direct examples of fractals in nature. Purple flower called "Dutchman's Pipe." It has a fantastic damask-like pattern. Found growing on a fence next to purple passion flowers. They were all gorgeous. Captured at Florida Botanical Gardens in Largo, Florida, USA. 729 views as of Nov. 7, 2012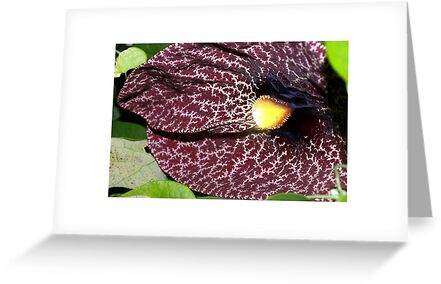 Dutchman's Pipe (Aristolochia durior ) is a Florida native planted throughout the gardens. It is an fast-growing, twining, woody vine with heart-shaped leaves and purple-brown speckled flowers that appear from early summer to late fall or winter. The flowers are an oddity because of their large size and unusual shape. The Pipevine Swallowtail butterfly uses this plant as a larval food.
From: Florida Botanical Garden's website-What's in Bloom
http://www.flbg.org/whatblooming/june_july_augu...