Wrapped up hibiscus blooms looking like little red Christmas bells. Holiday card saying "Season's greetings." Base capture made in Indian Rocks Beach, Florida, USA.
275 views as of Dec. 19, 2013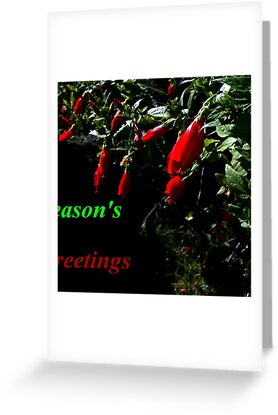 Malvaviscus penduliflorus
Common Names: Turk's cap, sleeping hibiscus, cardinal's hat
Family: Malvaceae (mallow Family)
Some folks call this plant the sleeping or nodding hibiscus because it ecause it resembles a hibiscus bud that doesn't have the energy to completely open.
"Since moving to Florida, I've come to associate this robust tender evergreen shrub with the Christmas season." Although Turk's cap blooms off and on throughout the year, it always seems to look its best in early winter when its brilliantly bright red flowers are most appreciated. Displayed against rich green leaves, the flowers resemble wilted hibiscus buds hanging from the bush. But these buds never open! The entire plant resembles the hibiscus to which it is closely related. The 2 in (5 cm) long tubular flowers appear to be constructed of crimson crepe paper that nods against the rich green foliage. The large oval leaves are about 8 in (20.3 cm) long. This shrub can grow to 10 ft (3 m) in height. The plant often becomes vinelike when grown in shady situations, sending out long stems that clamber over and up adjacent trees and bushes.
From: www.floridata.com