Ingenious cocoon I found on a branch. I almost pulled it off thinking it was a dried leaf. Look at the way the little bits of twigs are attached…wow. And it resisted my pulling it off-so it is strongly attached. Captured in my backyard in Largo, Florida, USA. 1579 views as of April 20, 2014
Featured in—Nature's Wonders-October 26, 2008
Featured in—Animal Homes (No animals)-Feb. 26, 2012 (no banner)
Featured in—Americas-Rural, Urban, Wild & Free-April 27, 2014
View history
100 views as of March 23, 2011
310 views as of Sept. 14, 2011
Metal Print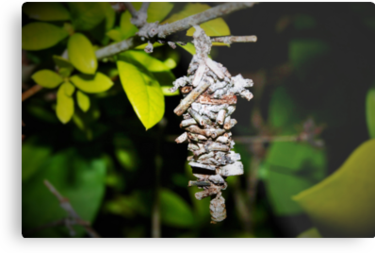 From the Chatham Journal
Bagworms are 1/8 to almost 2 inches long depending on age. The head and forward parts are dark and hardened and the rest is paler and soft. Each bagworm is covered by a bag made of white silk with bits of the host plant spun onto the outer surface. The pupae are dark brown. Male pupae are slender and female pupae are fatter. The pupal stage occurs inside the bag. Female bagworms are wingless, legless and grub-like (they never leave the bag). Males are small, brown hairy moths with dark wings that clear with age. Eggs are spherical or oblong and about 0.8 mm by 1.0 mm. Eggs are found in the mother's bag inside her pupal cast skins.
Bagworms occur throughout North Carolina (and other areas such as along the Gulf of Mexico, my note.). Bagworms have a very wide host range but are usually associated with arborvitae or juniper. A single bagworm does relatively little harm as it feeds on leaves. Excessive defoliation may kill conifers within one or two seasons. Damage is most noticeable in landscapes rather than woodlands. Occasionally, the silk band with which the bagworms attach themselves to a twig before they pupate girdles the twig as the twig enlarges. Winter is spent as eggs (500 to 1000) in the mother's bag.
They hatch in May and June. The newly hatched larvae spin down on silken threads and are blown about by the early spring breezes. Most of the larvae land on the original host plant but some small worms may be "ballooned" for some distance on the silk thread. Upon reaching a suitable host, the worm begins to spin its bag and as it grows, it incorporates some of the host plant foliage into the bag for camouflage. As the bagworms grows, it enlarges the bag and adds fresh plant material to the outside. In August the worms mature and molt into the pupal stage. The bag is firmly attached by a sturdy silk band which the bagworms usually wrap around a twig. During August and September, male moths emerge from their bags to mate. After mating, females lay their eggs inside the pupal cast skins and die.
Coming on up
(Leopard moth caterpillar-not a bagworm)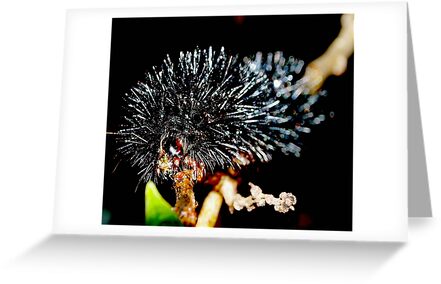 Damp white-tipped black moth
(Not a bugworm moth, a Snowbush spanworm, or Melanchroia chephise moth)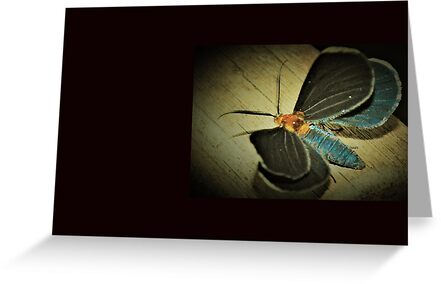 Long journey
(Leopard moth caterpillar)
"
"http://www.redbubble.com/people/rbb2676/art/560...