Rufford abbey is a English Heritage Property
In the heart of Robin Hood Country lies Rufford Abbey. Once one of the great private estates in Sherwood Forest it includes a country park with large areas of woodland and parkland criss-crossed with footpaths.The 12th Century Rufford Abbey was founded by Cistercian monks and later transformed for the Talbot and Savile families into a grand country house.
The Cistercian order was noted for its spartan way of life and its strict religious beliefs. The monk's lives consisted of work, study and prayer. By the middle of the 14th Century, the abbey was struggling to continue because of the dwindling number of monks. Rufford was one of the first to go when Henry VIII dissolved the monasteries around 1536 because of its poverty and run down state.
Later the Crown granted the abbey to the Talbot family, one of England's richest and most powerful families. George Talbot, 6th Earl of Shrewsbury, transformed it into a grand country house.
Taken with Canon 20D sigma 10-20mm lens at 10mm processed with photomatix
Top ten place "English Heritage & National Trust" July 2011
"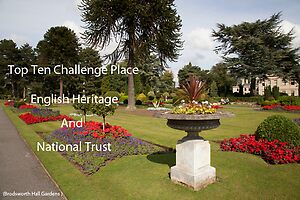 Featured in "Religious Architecture"