The recent events in Libya are of interest to me. The liberation of the Libyan people is way overdue.
The term Berbers still call themselves in their own language, which is Amazigh, possibly means 'free man' or even 'free and noble'.


Colonel Gaddafi has been in power for as long as I've been alive, 42 years and I remember when I had my first job around 1986 his head was all over the papers causing trouble back then.
More than that, my interest in ancient history and Atlantis has led me to research much about ancient Libya and it's people, entrenched in Greek myths as the home of Poseidon or Neptune on the river Triton giving prophecy to Jason and his Argonauts when they strayed up the mysterious river in the strange land of Libya. Plato even says Athena herself came from Libya, from the shores of the River Triton, into Greece through Crete at the 'dawn of Greek culture'.
In the Argive line of the Greeks, Poseidon marries Libya herself and they are part of the family line that Danaus and Perseus come into Greece through, ancient Libyans in the land of Atlantis, West of ancient Egypt, where Herodotus, a Greek historian, recorded events 450 years before Jesus Christ.
His important work is still used today to get an insight into ancient times, often vilified for lying only to be found to be telling the truth after archaeology proves him right time and time again – possibly the problem lying in our inability to truly understand how the ancients thought and lived…
I for one, am happy to see the liberation of Libya, the name itself, Libya, stems from that idealism, Liberation, long live Libya, the very ancient home of Neptune.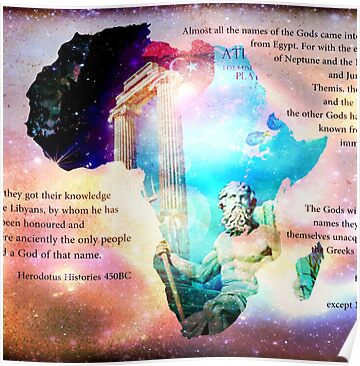 Herodotus Histories Book 2
Stock credits for the Poseidon image can be found at my other work Atlantis which was a Red Bubble Home Page Feature.
I painted Africa once…