Easy Fantasy Photo-Manipulation Tutorial
Do you want to recreate a magical forest? I did. For me it was one of the reasons I decided to try stock art, that is artworks using stock, stock which has been uploaded on the internet for you to use in works like this. All sorts of stock is available as well as other resources like brushes, textures and premade backgrounds.
Far from being any sort of professional at this I do have enough know-how to offer this simple tutorial to people who have never tried it before or didn't quite get the steps required to put one together. I'm sure their is more advanced techniques out there using more expensive programs or other ways but this is a great start to it and then you can practice some more yourself as you go along. I know a couple of Red Bubblers who asked me to show them how to do something like this. :O)
Some stock is guarded by certain rights of the artist or photographer so be advised to check rules before selling any work. When you upload around 20 stocks a day it gets hard to remember everyone's rules but I do try.
OK, so a good place to start with finding stocks is yourself! Take photographs that you can use for making another work, it might be a field scene, the sky, a specific thing or pose, anything really works if you have an idea in your head of what you want to create and that really is the 1st step.
1. Think of an Idea
Get an idea, maybe you have wanted to make some sort of mythical scene or have an image in your head you want to create, since I'm not a very good drawer, I find this is a way for me to draw digitally in a way, create scenes I can't photograph or draw. Sometimes just browsing stock can give you an idea, something pops into your head when you see a background or an idea. Once you have an idea you need some stock.
2. Collecting Stock
I get a lot of stock from www.deviant.art.com you need to join to access it and it offers great resources, brushes are great to download for adding something extra and all sorts of pictures are available just in brushes. Textures add some nice finishing touches and colours. I have many textures available to download. You can find my 5 stock folders HERE
Premade backgrounds are great for fantasy images and I use them alot. There is plenty of model stock available, in all sorts of poses, everyday, weird, princesses, anything really and if you can't find one, take your own, as I did when I photographed my teenage daughter lying in a certain pose so I could use her for my sleeping princess. Look around and take image stock, download images, backgrounds, brushes and anything else you think might be helpful.
3. Time to start the digital stuff.
I use 4 different programs mostly to create photo-manipulations. GIMP is fantastic, free download off the net, same for Picasa, I utilise a website called Picnik which does cool vignette borders and has textures and effects and lastly I have Photoshop Elements 7 (PSE), which is the main program I use so something similar should be fine. Collect your images you want to use and of course, you can add more as you think of new things to add to your work as you go along but have a basic idea and main images selected and saved. It doesn't matter how they look, we can fix them.
4. Preparing your Images for use.
Open your editing program (PSE) and think of the shape and size you want to make it, then open New then Blank File and choose your size etc for a base layer, which should be in approximate scale to your chosen background image, say 30 cm x 20 cm for examples sake, ok, then you can click a colour to colour it with the paint bucket tool or make it invisible if you prefer, especially if you are doing a T-shirt. You can also click the tool in the layers box to colour it if you prefer that way. You should have a sized base layer either invisible or coloured. This ensures your image will be nicely sized for Red Bubble and you don't end up with a tiny sized image because your chosen background was small size. Then you need to open the images you want to use and store them on your edit page (down the bottom on mine), so click Open, choose your files, each will pop up on the screen and then click the – button to make it show up in your smaller thumbnails as I said, mine are down the bottom. You can then see each image you will use, some will need to be fixed so as to cut them out.
5. Starting your Image
Click and hold your background image and drag it onto the black background layer. It will probably look like a small image on top of the black layer – click Image up the top on the tool bar and then Resize then Scale, or the equal on your program. A square will pop up around it and allow you you pull the corners out to fit the black background base layer so do that evenly, pull the diagonal corners equally is best. That is your second layer, which should show in your Layers boxes. In my example, I have the blue with black trees as my background. Now it gets a bit trickier.
6. Adding the Content
I then overlapped another image that was also a background but only used some of it, the cottage part and the rocks. To do this you drag up your next image, going from back to front generally in your layers, then I used the Invisibility button (make sure you have the layer selected you want to erase on) to make it 50% strength so I can see the blue trees background under it and start to rub out the part I didn't want and just kept in the cottage and surrounds. To erase, click on the Eraser, make it 100% and then select your brush, I often use the Calligraphic brushes for edges and the fuzzy styled natural textured brushes for rubbing out and large basic brushes for big areas. Rub out any unwanted parts of the 2nd layer image, you can magnify your work too, so do that if you need to to erase really close to edges leaving no unwanted excess colour. Go back to normal size and look at it, then increase your Invisibility back up so the image is at your desired level. I use invisibility alot.
7. Blending the Edges
Blend your edges by choosing the Blur tool at about 30% strength and not too large a basic brush, don't worry too much yet, we will neaten it up later but blend it generally now so it looks nice and try to add some dimension by doing so.
Use extra brushes to enhance your blending, I like foliage brushes which are easy to download files and you click open and they pop up in your Brush folder. So, do that or just use the available brushes to fuzz your greenery a bit and add some shadows the same way with some brushes. Invisibility on paint levels when using the brush can make a real difference too.
You might like to add more layers to it as we just did, creating more depth depending on your chosen idea. When your background is ready it's time to assemble the images on top to create your picture, this is more trial and error to get positioning and dimension, sizing and realism right.
8. Removing the Background
This step often requires removal of other background from your chosen image. The witch for example in my picture, has the original shot taken of her with green forest behind her which I didn't want so I cut her out. Some pictures are near impossible to do this with neatly and it pays to think about your chosen images if they need cutting out how difficult it will be to remove the rest of the photo. The best tool I find is the Magic Eraser but others like to use a cut out tool, there is no magic way to do it and they all require patience and tidying up.
Because it removes chunks of colour try and find images that have a different coloured background for easy removal, many stock photographers do try and take images against backgrounds because of this but many are not like this. Some can be downloaded as png files which means they are already cut out, always handy.
9. Magic Eraser
This time double click your chosen image to come up on the screen so you can work on removing the unwanted parts of the photo. Select Magic Eraser and start clicking on any background colour you want rid of, if you click and some of your main image disappears, just click Edit and Undo that step and it will easily revert back, you can do that with any step, if you erase part of your image as you go just click that Edit and Undo. So, when you have as much of it gone as you can with the Magic Eraser, click the Eraser and on full strength rid the image of most of the other excess, your main picture will probably be surrounded by background you might need to tidy up, click magnify so you are close up to the edges and using different brushes on Eraser try to clean it up as best you can, hair and flowers can be tricky so do your best and any really hard bits can often be blended later anyway.
10. Scaling Your Image
So, you then – click that back down the bottom and you can do each image like this now or as you go. Drag that image back onto your screen this time and use the Scale again, that was under Image – Resize – Scale, the box comes up and you can move it around the screen and make it bigger or smaller too. You can change the image direction by folding it over itself. You can angle it, if you look at the toolbar you can see some boxes sort of on their side, click Scale and then the 2nd box and it will turn around on a slant. Handy for butterflies and things that need directional changes. You might notice areas that you missed erasing so clean them up and place your item on the page where you want it to scale. Click the Blur tool again when you are happy and just blur the edges again to make it smoother, don't over blur.
11. Placing Items On
Hopefully that worked out fine and you have a base layer, a background layer (or 2 or 3) then your 1st picture layer. Choose your next image and use the magic eraser the same way to clean up your chosen picture and place it on. Always drag up images to add to the picture or double click to have them appear on the screen to edit. Keep going with that until you have a nice picture happening to your liking. Think of the atmosphere and ambience and have some brushes downloaded that can add stars, twinkles, magic swirls and moons are good too, I often use moon brushes instead of moon pictures. Use your brushes and invisibility to add smokey haze or coloured misty clouds.
12. Editing
Look at your image and think about the lighting and whether it looks to be sitting right and everything is in the proportion you want. Blur edges and other areas that need it. Add little extras like the owl, magic mushroom and cat on the doorstep. Then click on Enhance and change your shadows or contrast, highlight etc until you are really happy with the blending. I actually do shadow in Picasa as I like the result better. That is after I have saved the image and transfer it to Picasa. Think about a border or vignette edging. Picnik offers a great vignette border and GIMP has the best fuzzy border I think.
13. Flatten Image and Save
You should have quite a few layers by now after placing all the items on. Drag and place, then scale and check colour, each layer can be individually enhanced so I often go to Enhance colour, even for a butterfly so I can darken it or change the hue of it. When you are happy with it, click Layers, then Merge Layers or Flatten Image. I add shadow and highlights bring out the moon and stars, add some final Lighting Effects with a spotlight from the moon, check I havent lost anything when I added my shadow and do any final touches and Save it as a final edit in jpeg format around 3MB.
Then upload to Red Bubble and that's it! I hope that helps anyone interested out and if you get to a step and are not sure of something don't hesitate to ask me if I can help. Good luck everyone, I hope to see some stock art photo-manipulation masterpieces very soon!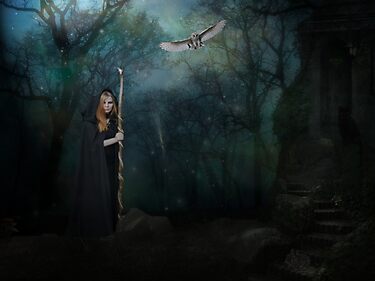 Vanessa :O)