DEC 2012=160 VIEWS
This image is © Bonita Rapture777. You may not use this image (in whole or in part). All Rights Reserved.
Copying, altering, displaying or redistribution of any of this image without written permission from the artist is strictly prohibited..
Purchasing this artwork does not transfer copyright.
Lord our God, You are always faithful and quick to show mercy. children and adults was violently taken from us. Come swiftly to the families aid, have mercy on them, and comfort family and friends by the power and protection of the cross. We ask this through Christ our Lord. Amen.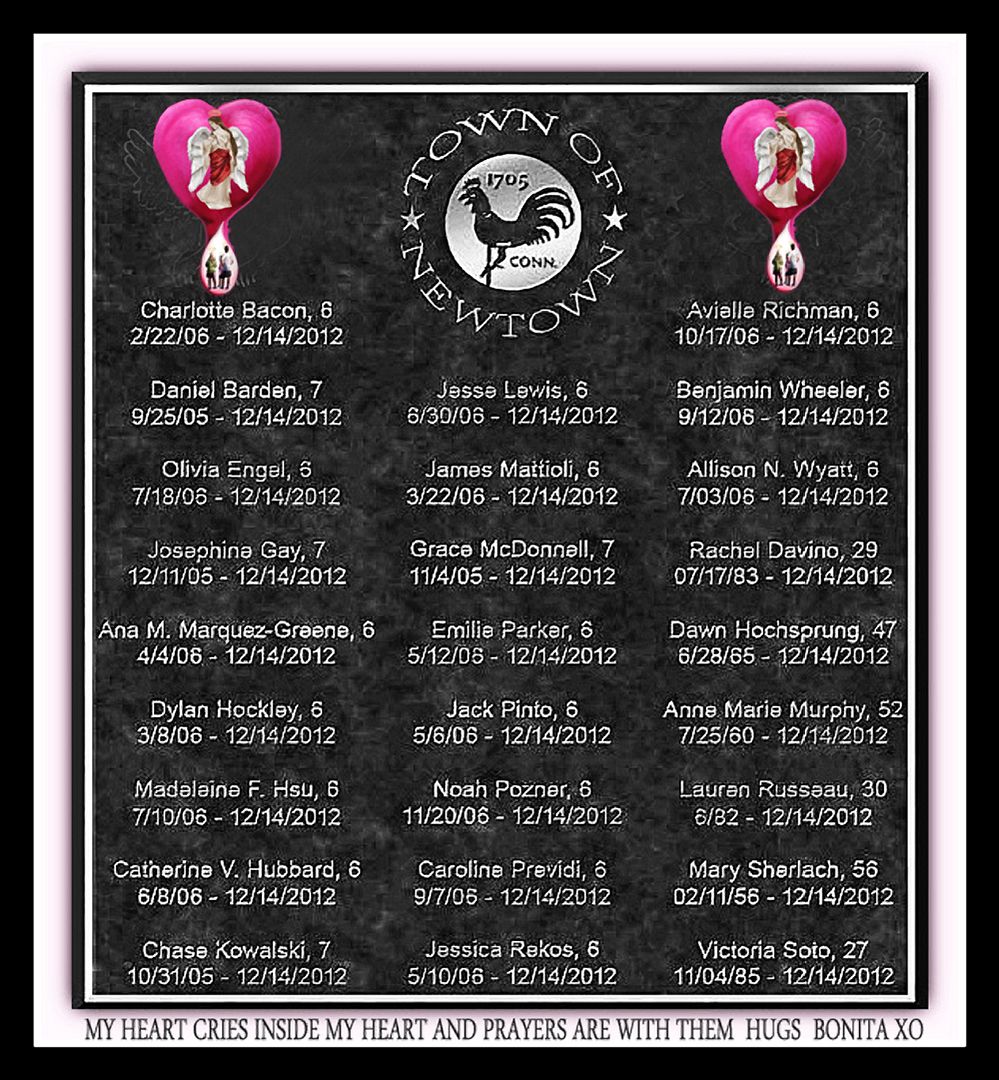 DEDICATED TO ALL THOSE WHO KNOW THE PAIN OF LOSING SOMEONE U LOVE HUGS
SIGNS OF THE TIMES ARE EVERYWHERE
† ❤ † ❤ † A PICTURE I SAT DOWN AND CREATED IN SADNESS I FEEL SO STRONGLY IN MY HEART FOR ALL THOSE LITTLE CHILDREN WHO WHERE SHOT ALONG WITH PRINCIPAL AND OTHERS SUCH A TRAJIC THING I AGONIZE AND AM MOVED WITH TEARS FOR THE PARENTS FOR THE LOSS AND SADNESS ONE CAN ONLY CRY IN THERE HEARTS IMAGINING THIS TERRIBLE TERRIBLE EVENT AND LOSS OF PRECIOUS LIFE..MY HEART AND PRAYERS ARE WITH ALL THE PARENTS FRIENDS FAMILIES & LOVED ONES FOR THERE LOSS..HEART FELT HUGS AND I WRAPPED MY ARMS AROUND U ALL IN LOVE HUGS BONITA † ❤ † ❤ †
THIS PICTURE A HEART REPRESENTING THE LOVE FOR ALL THE ANGEL TO GUIDE THEM HOME IN PEACE,,A TEAR DROP AT THE BOTTOM IN WHICH CHILDREN I ADDED I HAD CAPTURED ADDING HALOS AND HEART WITH WINGS REPRESENTING LOVE AND GUIDENCE GOING TOWARDS HEAVEN THAT OUR HEARTS WILL ALWAYS BE WITH THEM IN OUR THOUGHTS AND PRAYER TO THESE NOW LITTLE ANGELS..
DONE IN PHOTOSHOP WORKING IN LAYERS PAINTING ADDING CAPTURE OF CHILDREN I HAD TAKEN IN TEARDROP PAINTING HEART ADDING CROSS HEARTS HALOS.ADDING LACE AS MY TEXTURE WORKING IN LAYERS VIA PHOTOSHOP
A VIDEO I DID BELOW A SHORT WHILE AGO I FELT IN MY HEART TO DO THIS PRAYER AND RECORED MYSELF DOING THIS PRAYER ADDING MY PICTURES FOR I KNOW SIGNS OF THE TIMES ARE EVERYWHERE AND PEOPLE NEED OUR LOVE AND PRAYERS THIS PRAYER IS DEDICATED TO ALL HEART FELT HUGS
A shooting at a Connecticut elementary school has left 27 people dead, including 18 children, according to an official with knowledge of the attack, although state police would not confirm the number of victims in what could be one of the deadliest mass shootings in U.S. history.
In a news conference after the Friday morning shooting, Lt. Paul Vance of the state police would only say there were "several fatalities at the school, both students and staff."
He confirmed the gunman was found dead inside the school and the scene has been secured.
The killings happened at Sandy Hook Elementary School in Newtown, about 95 kilometres northeast of New York City.
Vance said local police received a 911 call around 9:45 a.m., ET and notified state police, asking for assistance. A SWAT team was among the throngs of police to respond.
There are unconfirmed media reports the principal and school psychologist are among the dead.
Photos from the scene showed young students — some crying and looking visibly frightened — being escorted by adults through a parking lot in a line, hands on each other's shoulders.
The Hartford Courant newspaper said those shot included children from kindergarten through Grade 4.
The person behind the shooting apparently had two guns, someone with knowledge of the shooting told The Associated Press. Unconfirmed media reports say the suspect fired about 100 bullets.
A law enforcement official in Washington said the attacker was a man in his 20s with ties to the school and that one of the guns was a .223-calibre rifle. A local police source said the gunman is dead, but provided no further details.
Gunman's parent found killed in New Jersey
NBC says police obtained a warrant to search a home in New Jersey, where they found the body of one of the gunman's parents. It's not clear whether the deceased was the suspect's mother or father.
CBS identified the gunman as Ryan Lanza and said his mother is a teacher at Sandy Hook Elementary. It's not known whether she was killed in the shooting.
If the Newtown death toll is confirmed, it would rank as the second deadliest mass shooting in U.S. history, behind the 2007 gun slayings of 32 people at Virginia Tech University.
Three injured people were taken to Danbury Hospital, according to Pat Broderick, chairman of that facility's emergency department. He would not reveal details about the injuries.
'It's alarming,' student's dad says
Stephen Delgiadice said his eight-year-old daughter heard two big bangs and teachers told her to get in a corner. His daughter was fine.
"It's alarming, especially in Newtown, Conn., which we always thought was the safest place in America," he said.
The superintendent's office said the district had locked down schools in Newtown.
Emergency vehicles surrounded the school in western Connecticut and parents were seen running toward the building as a helicopter flew overhead.
Mergim Bajraliu, 17, heard the gunshots echo from his home and raced to check on his 9-year-old sister at the school. He said his sister, who was fine, heard a scream come over the intercom at one point. He said teachers were shaking and crying as they came out of the building.
"Everyone was just traumatized," he said.
Richard Wilford's 7-year-old son, Richie, is in the second grade at the school. His son told him that he heard a noise that "sounded like what he described as cans falling."
The boy told him a teacher went out to check on the noise, came back in, locked the door and had the kids huddle up in the corner until police arrived.
"There's no words," Wilford said. "It's sheer terror, a sense of imminent danger, to get to your child and be there to protect him."
The White House said Barack Obama was notified of the shooting and his spokesman Jay Carney said the president had "enormous sympathy for families that are affected."