DEDICATED TO ALL THOSE WHO BELIEVE IN THAT INDEED THERE WAS THREE WISE MEN or MORE
nov.2013= 500 VIEWS
This image is © Bonita Rapture777. You may not use this image (in whole or in part). All Rights Reserved.
Copying, altering, displaying or redistribution of any of this image without written permission from the artist is strictly prohibited..
Purchasing this artwork does not transfer copyright.
Where do i start with this..This was a small little card i had for many years,i found it and had to restore it instead of colour i did it mono and then did selective colouring, i had to draw in things paint ect.,I then added in the jewels one by one shaping them ect. via photoshop layers, then added my star..then made this a big sized picture..also had to do painting and restoration to make this and am very pleased with
the outcome final touch was adding my text..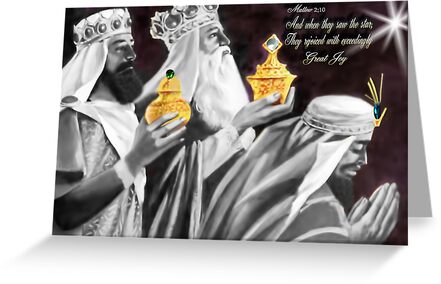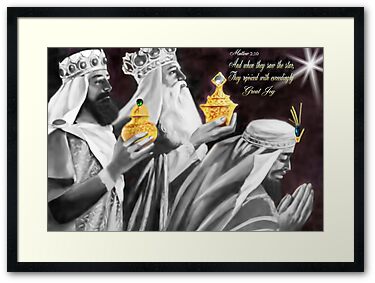 Question: "What does the Bible say about the three wise men (Magi)?"
Answer: We assume that there were three wise men because of the three gifts that were given: gold, incense, and myrrh (Matthew 2:11). However, the Bible does not say there were only three wise men. There could have been many more. Tradition says that there were three and that their names were Gaspar, Melchior, and Balthasar, but since the Bible does not say, we have no way of knowing whether the tradition is accurate.
It is a common misconception that the wise men visited Jesus at the stable on the night of His birth. In fact, the wise men came days, months, or possibly even years later. That is why Matthew 2:11 says the wise men visited and worshiped Jesus in a house, not at the stable.
We know that the magi were wise men from "the East," most likely Persia, or modern-day Iran. This means the wise men traveled 800 to 900 miles to see the Christ child. Most likely, the magi knew of the writings of the prophet Daniel, who in time past had been the chief of the court seers in Persia. Daniel 9:24-27 includes a prophecy which gives a timeline for the birth of the Messiah. Also, the magi may have been aware of the prophecy of Balaam (who was from the town of Pethor on the Euphrates River near Persia) in Numbers 24:17. Balaam's prophecy specifically mentions a "star coming out of Jacob."
The wise men were guided to look for the King of the Jews by a miraculous stellar event, the "Star of Bethlehem," which they called "His star" (Matthew 2:2). They consulted with King Herod in Jerusalem concerning the birth of Christ and were so directed to Bethlehem (Matthew 2:4-8). They followed God's guidance joyfully (Matthew 2:10). Their gifts for Jesus were costly, and they worshiped Him. God warned them in a dream against returning to Herod, so, in defiance of the king, they left Judea by another route (Matthew 2:12).
So, the magi were men who 1) read and believed God's Word, 2) sought Jesus, 3) recognized the worth of Christ, 4) humbled themselves to worship Jesus, and 5) obeyed God rather than man. They were truly wise men!
Question: "Why did the Magi bring gold, frankincense, and myrrh to Jesus?"
Answer: Matthew 2 tells us that the magi, or wise men, travelled from the East in search of the Christ child. They inquired of King Herod where they might find Him, saying, "Where is he who has been born king of the Jews? For we saw his star when it rose and have come to worship him" (Matthew 2:2). Upon finding the baby Jesus, "they bowed down and worshiped him. Then they opened their treasures and presented him with gifts of gold and of incense and of myrrh" (Matthew 2:11).
Gold is a precious metal and as such was a very valuable commodity. Its value could very well have financed Joseph and Mary's trip to Egypt. The Bible does not tell us any other significance to these three gifts; however, tradition has it that there is a deeper meaning for each of the three. Gold is a symbol of divinity and is mentioned throughout the Bible. Pagan idols were often made from gold and the Ark of the Covenant was overlaid with gold (Exodus 25:10-17). The gift of gold to the Christ child was symbolic of His divinity—God in flesh.
Frankincense is a white resin or gum. It is obtained from a tree by making incisions in the bark and allowing the gum to flow out. It is highly fragrant when burned and was therefore used in worship, where it was burned as a pleasant offering to God (Exodus 30:34). Frankincense is a symbol of holiness and righteousness. The gift of frankincense to the Christ child was symbolic of His willingness to become a sacrifice, wholly giving Himself up, analogous to a burnt offering.
Myrrh was also a product of Arabia, and was obtained from a tree in the same manner as frankincense. It was a spice and was used in embalming. It was also sometimes mingled with wine to form an article of drink. Such a drink was given to our Savior when He was about to be crucified, as a stupefying potion (Mark 15:23). Matthew 27:34 refers to it as "gall." Myrrh symbolizes bitterness, suffering, and affliction. The baby Jesus would grow to suffer greatly as a man and would pay the ultimate price when He gave His life on the cross for all who would believe in Him.