This image is © Bonita Rapture777. You may not use this image (in whole or in part). All Rights Reserved.
Copying, altering, displaying or redistribution of any of this image without written permission from the artist is strictly prohibited..
Purchasing this artwork does not transfer copyright.
DEC..2012= 109 VIEWS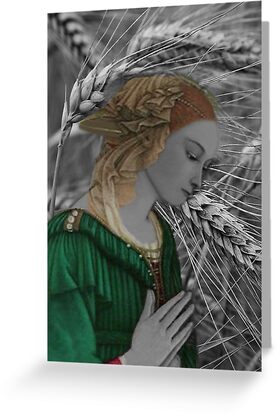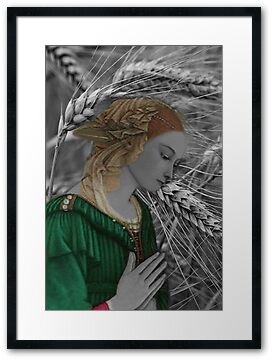 THE PICTURE I USED IN THIS PHOTO SYMBOLIZING RUTH IS ONE I HAVE RESTORED AND IS MY PERSONAL PICTURE I OWN IN HAVING FOR MANY YEARS..I USED THIS PICTURE IN COMBINATION WITH ADDING WHEAT IN THE BACKGROUND DOING A SELECTIVE COLOUR ADDING TWO IMAGES IN TOTAL REF THE SCROLL DONE VIA PHOTOSHOP WORKING IN LAYERS
NOTE THIS PICTURE HAS SCRIPTURE VERSE ON IT AS THE GROUPS I AM ENTERING IT INTO REQUIRE SCRIPTURE I WILL POST THE SAME PICTURE WITHOUT SCRIPTURE HUGS.
If ever there were a story that shows how God can bring great good out of awful circumstances, Ruth's story is it. She was a Moabite, which means she was a distant relative of Abraham's people; a descendant of Lot's firstborn daughter. Moabites were not among the seven heathen nations with which Israelites were forbidden to intermarry (Deuteronomy 7:1-5), so (over 1,000 years before the birth of Christ) when Elimelech, an Israelite from Bethlehem, moved with his wife, Naomi, and two sons to Moab to escape a famine and died there, his sons chose Moabite wives. Ruth was one of them. The other was named Orpah. When both of Elimelech's sons also died in Moab, Naomi and her daughters-in-law were left in dire straits. Naomi had heard prosperity had returned to Israel, so she set her intentions on going home and urged her daughters-in-law to return to their parents' houses and find new husbands. Orpah did. Ruth clung to Naomi as recorded in one of the most beautiful examples of selfless devotion in the whole Bible: "Do not urge me to leave you or to return from following you. For where you go I will go, and where you lodge I will lodge. Your people shall be my people, and your God my God. Where you die I will die, and there will I be buried. May the LORD do so to me and more also if anything but death parts me from you." She kept her vow.
The book of Ruth is easy to read in one sitting, so I won't go into too much detail here about how the story unfolds. Upon making their way back to the region of Bethlehem, Ruth and Naomi find a place to live and Ruth begins gleaning in the fields hoping to gather up enough of the excess grain for the two of them to live on. She winds up married to a great man, has a precious son and is blessed with the means and security for which she and her mother-in-law both prayed. More important, Ruth's devotion to Naomi and her God (also our God) leads to a happy ending. We need never forget that all happy endings follow faithful living, even if there are unhappy times first.
. "Now these are the generations of Perez: Perez fathered Hezron, Hezron fathered Ram, Ram fathered Amminadab, Amminadab fathered Nahshon, Nahshon fathered Salmon, Salmon fathered Boaz, Boaz fathered Obed, Obed fathered Jesse, and Jesse fathered David" (4:18-22). Perez was Judah's son by Tamar who pretended to be a prostitute in order to conceive (Genesis 38; Matthew 1:3). The good man who married Ruth, Boaz? His mother was Rahab, the former harlot (Joshua 2; Matthew 1:5). Boaz and Ruth's child was King David's grandfather. These all are in Christ's ancestry. Never write off a whole family for the sake of a black sheep or two, and for that matter, don't write off the black sheep. They can be washed (1Corinthians 6:11).
Ruth died Feb. 26, 1966. Jane Winston Boetcher John, married
Ruth is a short version of 'retut', 'lovely friend'.
Naomi means 'pleasant', but the name she called herself later was Mara, meaning 'bitter'.
Boaz means 'powerful' or 'strong'.
Mahlon and Chilion mean 'sickness' and 'used up'.
Orpah means 'back of the neck'; she turned her back on Naomi.
Elimelech means 'my God is king'.