APRIL 2013= 257 VIEWS
CHECK OUT VIDEO I MADE BELOW OF GUMMY BEAR LOL

APRIL 2013= 155 VIEWS
This image is © Bonita Rapture777. You may not use this image (in whole or in part). All Rights Reserved.
Copying, altering, displaying or redistribution of any of this image without written permission from the artist is strictly prohibited..
Purchasing this artwork does not transfer copyright.
CAPTURE OF ONE OF MY GUMMY BEAR BIG ONE LOL
I LOVE GUMMY BEARS HAD QUITE OF FEW OF THEM IN GERMANY AND STILL LIKE THEM..DECIDED TO DO THIS FUN PICTURE AND VIDEO I MADE BELOW OF GUMMY BEARS..DO U KNOW WHO INVENTED GUMMY BEARS?? IF NOT READ BELOW HUGS*
CLICK ON IMAGE BELOW FOR GUMMY BEAR WILL TAKE U TO VARIOUS COLOURS AND STYLES OF TEE SHIRTS HOODIES ECT HUGS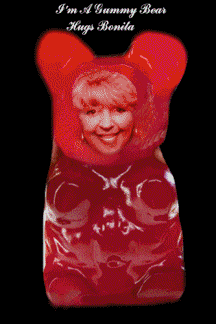 CLICK GUMMY BEAR IPHONE CASE IMAGE BELOW CHECK OUT IPHONE CASE HUGS
GUMMY BEARS RULE INVENTOR OF GUMMY BEARS LINK CLICK ME
The gummy bear was invented in by a German man named Hans Riegel . When Riegel was just 23 he founded Haribo. He went on to produce the 'gold bear' product in the 60s. The consistency of gummy bears has also been said to be very ideal for breast implants. "Gummy Bear breast implants" have been on the market since 2005.…huhuhuh.. Even though sour patch kids aren't really gummy bears, theyre AMAZING so they get a little shoutout. Sour Patch Kids were originally called Mars Men, little aliens that were sold for one cent (U.S.) each. The product inspiration and design came at a time when UFO sightings were exciting the Western World. The success of Gummy Bears has spawned the many different gummy animals. Today, many brands of gummy bears exist on the market. Trolli is a well-known knockoff gummy candy manufacturer and was the first to introduce "gummi worms" in 1981.
CHECK OUT VIDEO I MADE BELOW OF GUMMY BEAR LOL