NOV 2012= 316 VIEWS

MEET CORKY HE WAS A SMALL TINY DOG THAT CAME INTO OUR LIVES CAPTURED PICTURE OF CORKY WHEN HE CAME TO US IN KINGSTON ONT.CANADA… ,ITS A LONG STORY,BUT WE MADE SURE CORKY WENT TO A GOOD HOME WHICH I JUST PHONED TODAY TO SEE HOW HE IS DOING ..HE LIVES IN BELLVILLE THE OWNERS LOVE CORKY AND SPOIL HIM THERE CHILDREN LOVE CORKY HE IS FOREVER IN OUR HEARTS ,PRECIOUS AND SWEET HE IS. HE WAS A SMALL DOG WEIGHT ABOUT FIVE POUNDS SO TINY AND DELICATE..HE IS HAPPY AND I AM GLAD IN THE END HE HAS A LOVING HOME..BUT HE IS STILL IN OUR HEARTS FOREVER AND A DAY..
NOTE :THIS IS ONE OF THE PICTURES I USED I CAPTURED OF CORKY TAKING HIM OUT OF THE BACKGROUND USED THIS PICTURE BEFORE EDITING SEE BELOW*

NOTE PICTURE BELOW IS WHEN I PAINTED IN BLACK BACKGROUND BLK ADDING BASKET I PAINTED AND DESIGNED PUTTING BOW TIE AND MAKING THE BUTTONS TO MATCH ADDING CORKY..IT WAS AFTER THIS I ADDED THE BACKGROUND AS A TEXTURE..SEE BELOW FOR FINAL RESULT AND PICTURE HUGS
DONE UP IN PHOTOSHOP.., TOOK PICTURE OF WICKER BASKET OLD IT WAS BUT I PAINTED IT UP IN PHOTOSHOP PUT BOW TIE AROUND WICKER BASKET MADE MY BUTTONS MATCHING BOW TIE COLOUR WORKING IN LAYERS..ADDED PRECIOUS CORKY ..THEN ADDED PICTURE U SEE IN BACKGROUND AS MY TEXTURE GOING OVER CORKY AND BASKET AS TO HAVE THAT CLEAR IN IT SHOWING SEPARATE FROM TEXTURE BACKGROUND… MAKING THIS PRECIOUS PICTURE IN MEMORY OF HIM ALWAYS..
PICTURE OF MY BROTHER BELOW TAKEN ON COMPUTER CAMERA HOLDING CORKY HE JUST HAD A BATH LOL… SO SMALL HE WAS AS WE WERE TALKING ON COMPUTER TO SHOW ME HIM HE WAS SO CUTE NOTE THIS PICTURE WAS TAKEN IN HIS HOME BEFORE HE BROUGHT CORKY TO US…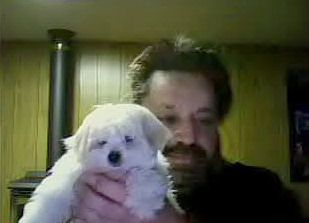 ANIMATED MY PICTURE AS WELL SEE BELOW….