Head down RT. 93 to Kingman AZ. 66 runs through Kingman. It's just over 100 miles but an easy drive through the desert.

*Wonderfull iphone case with license plate and sign of the Famous Route 66.Detailed map on license plate of Route 66,
A must have if you ever travelled there driving through the dessert. A wonderfull IPHONE CASE for those who would love a piece of this historic and famous place.A conversation piece, A wonderfull case to cherish the memories OF GETTING YOUR KICKS ON ROUTE 66.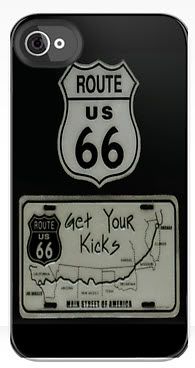 Raputre777
*CHECK OUT THE GET YOUR KICKS ON ROUTE 88 T-SHIRTS AND HOODIES!! CLICK LINK BELOW HUGS..