OCT. 2012=1288 VIEWS
Taken while i was in Cesky Krumlov beautiful little town all the buildings are so colourful different colours.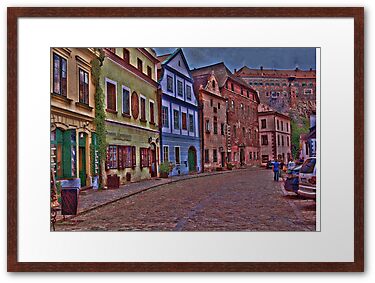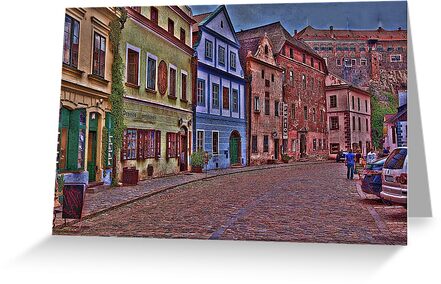 PLZ NOTE THIS IS THE COLOUR OF THE HOUSES
Český Krumlov (Czech pronunciation: [ˈtʃɛskiː ˈkrumlof] ( listen); German: Krummau an der Moldau or Böhmisch Krummau; Krumau variant is used sometimes) is a small city in the South Bohemian Region of the Czech Republic, best known for the fine architecture and art of the historic old town and Český Krumlov Castle. Old Český Krumlov is a UNESCO World Heritage Site and was given this status along with the historic Prague castle district.
The city is named Český Krumlov ("Bohemian Krumlov") to differentiate it from Moravský Krumlov ("Moravian Krumlov") in the southeast of the country.
Construction of the town and castle began in the late 13th century at a ford in the Vltava River, which was important in trade routes in Bohemia. In 1302 the town and castle were owned by the House of Rosenberg. Emperor Rudolf II bought Krumlov in 1602 and gave it to his natural son Julius d'Austria. Emperor Ferdinand II gave Krumlov to the House of Eggenberg. From 1719 until 1945 the castle belonged to the House of Schwarzenberg. Most of the architecture of the old town and castle dates from the 14th through 17th centuries; the town's structures are mostly in Gothic, Renaissance, and Baroque styles. The core of the old town is within a horseshoe bend of the river, with the old Latrán neighborhood and castle on the other side of the Vltava.
The town was seat of Duchy of Krumlov. 8,662 inhabitants lived in Krumau an der Moldau in 1910, including 7,367 Germans and 1,295 Czechs.
During the interwar era it was part of Czechoslovakia. Between 1938 and 1945 it was annexed by Nazi Germany as part of the so-called Sudetenland. The town's German-speaking population was expelled after liberation by the American Army during World War II and it was restored to Czechoslovakia.
During the Communist era of Czechoslovakia, Krumlov fell into disrepair, but since the Velvet Revolution of 1989 much of the town's former beauty has been restored, and it is now a major holiday destination popular with tourists from Germany, Austria, and beyond. In August, 2002, the town suffered from damage in the great flood of the Vltava River.