200 views ty hugs
I ALSO WILL BE MAKING A VIDEO SOON DEDICATED TO MARY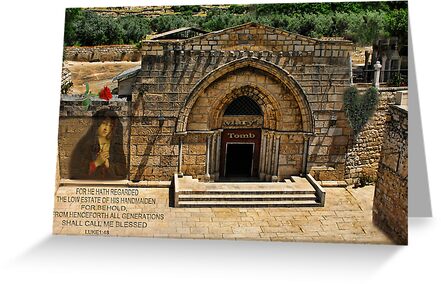 Church of the Sepulchre of Saint Mary, also Tomb of the Virgin Mary, refers to a Christian tomb in the Kidron Valley – at the foot of Mount of Olives, in Jerusalem, Israel – believed by Eastern Christians to be the burial place of Mary, the mother of Jesus

This image is © Bonita Rapture777. You may not use this image (in whole or in part). All Rights Reserved.
Copying, altering, displaying or redistribution of any of this image without written permission from the artist is strictly prohibited..
Purchasing this artwork does not transfer copyright.duplicating, printing, publishing (even on a web site), reproducing, storing, or transmitting by any means what so ever.
DONE IN PHOTOSHOP DOING TOUCHES STRAIGHTENING PICTURE,COLOUR,DOING SOME MODIFICATIONS EX COMPARE TREES ECT ECT,,,OF MY OWN ADDING ROSE PICTURE AND TEXT ADN WRITTING UPON ENTRANCE OF TOMB. AND PUTTING IN BIBLICAL SCRIPTURE TEXT.. TURNING WHAT LOOK TO ME TO BE PART OF A HEART SHAPE IN GROWING FROM BRICKS TO THE RIGHT I DID A HEART OUT OF THE GRASS LIKE SHAPE MORE DEFINED AND FROM MY HEART DONE PHOTOSHOP LAYERS
MADONA STOCK
OR COPY AND PASTE LINK BELOW IN BROWSER TO VIEW HUGS
http://en.wikipedia.org/wiki/File:The_Madonna_i...
MOTHER OF JESUS (MARYS TOMB) STOCK
OR COPY PASTE LINK BELOW IN YOUR BROWSER TO VIEW HUGS