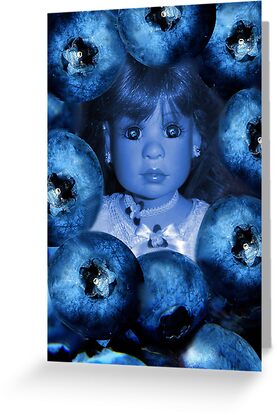 This image is © Bonita Rapture777. You may not use this image (in whole or in part). All Rights Reserved.
Copying, altering, displaying or redistribution of any of this image without written permission from the artist is strictly prohibited..
Purchasing this artwork does not transfer copyright.duplicating, printing, publishing (even on a web site), reproducing, storing, or transmitting by any means what so ever.
DONE IN PHOTOSHOP USING PICTURE OF BLUEBERRIES TAKE A GIRL ONE OF DOLL ADDING HER IN TURNING HER BLUE AND CUTTING A BLUEBERRY AT A TIME MAKING IT LIKE A 3D EFFECT WORKING IN LAYERS TAKING EACH BLUEBERRY GOING AROUND THE FRAME..ADDED LITTLE BLUEBERRY IN THE PUPIL OF THE CENTER OF HER EYES DONE IN LOTS OF LAYERS VIA PHOTOSHOP..PHOTOMANIPULATION..