40 VIEWS TY HUGS
DEDICATED TO ALL WHO BELIEVES IN ANGELS AND KNOWS OF ARCHANGEL MICHAEL
But I will shew thee that which is noted in the scripture of truth: and there is none that holdeth with me in these things, but Michael your prince.
Daniel 10:21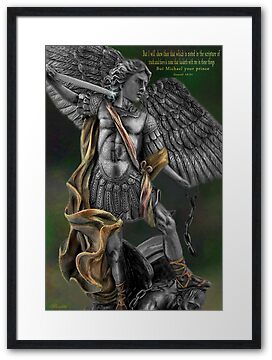 This image is © Bonita Rapture777. You may not use this image (in whole or in part). All Rights Reserved.
Copying, altering, displaying or redistribution of any of this image without written permission from the artist is strictly prohibited..
Purchasing this artwork does not transfer copyright.duplicating, printing, publishing (even on a web site), reproducing, storing, or transmitting by any means what so ever.
*THIS PICTURE I DID IN PHOTOSHOP PUTTING IN TIME DOING THIS TO PAINTING SANDLE LACES, TO PAINTING MY BACKGROUND AND DETAILS AND COLOUR IN MAKING THIS FINAL RESULT WHICH I AM PLEASED ..ADDED BIBLICAL TEXT ON THIS PICTURE.
I TAKE GREAT INTEREST IN ARCHANGEL ANGEL MICHAEL.
Michael the Archangel is a powerful spirit being and prince whom God the Father has designated as protector of His people Israel